Eventos prejudiciais à reputação corporativa: um estudo exploratório utilizando a técnica de vinhetas
Palabras clave:
Eventos Prejudiciais à Reputação, vinhetas, Investigação Qualitativa, Pesquisa Exploratória.
Resumen
Este artigo tem como objetivo explorar, por meio de uma investigação qualitativa, a percepção de gestores de alianças estratégicas sobre como eventos prejudiciais à reputação de parceiros de negócios afetam as parcerias. Além disso, este artigo se propõe a discutir a utilização de vinhetas como uma técnica a ser utilizada em um estudo exploratório. Para atingir este objetivo, foi operacionalizado um estudo que teve como contexto o setor farmacêutico, no qual foram realizadas entrevistas em quatro empresas brasileiras. Na coleta de dados foram utilizadas vinhetas. A técnica de vinhetas é ideal para ser utilizada em situações em que é preciso compreender o julgamento do participante sobre uma determinada situação-estímulo. Neste sentido, nas entrevistas, buscou-se explorar a percepção de gestores de alianças estratégicas com relação a eventos prejudiciais à reputação corporativa do parceiro nas alianças. As transcrições literais, resultantes das entrevistas, foram analisadas com o uso do aplicativo NVivo, nas etapas de preparação dos dados, codificação, análise das respostas dos entrevistados e elaboração do relatório para apresentação dos resultados. Como principal resultado obtido destaca-se o papel da repercussão de um evento prejudicial à reputação nos meios comunicação como um importante determinante para a tomada de decisão dos gestores de alianças estratégicas. Este estudo também foi bem sucedido em demonstrar que o uso de vinhetas de maneira qualitativa é uma técnica adequada para ser utilizada em estudos exploratórios. 
Descargas
Los datos de descargas todavía no están disponibles.
Citas
Alexander, C., & Becker, H. (1978). The use of vignettes in survey research. Public Opinion Quarterly, 42, 93.
Autor A, & Autor B (2018). Utilização de Vinhetas para a Coleta de Dados: Aplicação em um Estudo Exploratório sobre Eventos Prejudiciais à Reputação. Atas CIAIQ2018, 7o. Congresso Ibero-Americano de Investigação Qualitativa, 3, 47–56.
Ashta, A., Stokes, P., & Hughes, P. (2018). Change management in Indo-Japanese cross-cultural collaborative contexts: Parallels between traditional Indian philosophy and contemporary Japanese management. Journal of Organizational Change Management, 31, 230–247.
Barney, J. (1991). Firm Resources and Sustained Competitive. Journal of Management, 17, 99–120.
Barter, C., & Renold, E. (1999). The Use of Vignettes in Qualitative Research. Social Research Update, 1–7.
Barter, C., & Renold, E. (2000). "I wanna tell you a story": Exploring the application of vignettes in qualitative research with children and young people. International Journal of Social Research Methodology, 3, 307–323.
Berg Johansen, C., & De Cock, C. (2018). Ideologies of time: How elite corporate actors engage the future. Organization, 25, 186–204.
Coombs, W. T. (2007). Protecting organization reputations during a crisis: The development and application of situational crisis communication theory. Corporate Reputation Review, 10, 163–176.
Coombs, W. T., & Holladay, S. J. (2002). Helping Crisis Managers Protect Reputational Assets: Initial Tests of the Situational Crisis Communication Theory. Management Communication Quarterly, 16, 165–186.
Crafter, S., De Abreu, G., Cline, T., & O'Dell, L. (2010). Using the vignette methodology as a tool for exploring cultural identity positions. European Association for Research on Learning and Instruction (EARLI) Special Interest Group 21: Learning and Teaching in Culturally Diverse Settings: Moving through Cultures of Learning, 2–3.
Dollinger, M. J., Golden, P. A., & Saxton, T. (1997). The Effect of Reputation on the Decision to Joint Venture. Strategic Management Journal, 18, 127–140.
Eskelinen, L., & Caswell, D. (2006). Comparison of Social Work Practice in Teams Using a Video Vignette Technique in a Multi-method Design. Qualitative Social Work, 5, 489–503.
Feldman, P. M., Bahamonde, R. A., & Bellido, I. V. (2014). A new approach for measuring corporate reputation. RAE-Revista de Administração de Empresas, 54, 53–67.
Finch, J., & Mason, J. (1991). Obligations of kinship in contemporary Britain: is there normative agreement? The British Journal of Sociology, 42, 345–367.
Flores, J. G. (1994). Análisis datos cualitativos: Aplicaciones a investigación educativa. Barcelona: Latorre Literaria.
Fombrun, C. J. (1996). Reputation: Realizing Value from the Corporate Image. The Service Industries Journal, 10, 99–101.
Fombrun, C. J., Gardberg, N. A., & Sever, J. W. (2000). The Reputation QuotientSM : A Multi-Stakeholder Measure of Corporate Reputation. The Journal of Brand Management, 7, 241–255.
Fombrun, C. J., & Shanley, M. (1990). What'S in a Name? Reputation Building and Corporate Strategy. Academy of Management Journal, 33, 233–258.
Gatzert, N. (2015). The impact of corporate reputation and reputation damaging events on financial performance: Empirical evidence from the literature. European Management Journal, 33, 485–499.
Gatzert, N., Schmit, J. T., & Kolb, A. (2016). Assessing the Risks of Insuring Reputation Risk. Journal of Risk and Insurance, 83, 641–679.
Gertsen, F. H. M., van Riel, C. B. M., & Berens, G. (2006). Avoiding Reputation Damage in Financial Restatements. Long Range Planning, 39, 429–456.
Godoi, C. K., & Balsini, C. P. V. (2006). A visão qualitativa nos estudos organizacionais: elementos metodológico-epistemológicos. In Pesquisa qualitativa em estudos organizacionais: paradigmas, estratégias e métodos. (pp. 93–96). São Paulo: Saraiva.
Gourlay, A., Mshana, G., Birdthistle, I., Bulugu, G., Zaba, B., & Urassa, M. (2014). Using vignettes in qualitative research to explore barriers and facilitating factors to the uptake of prevention of mother-to-child transmission services in rural Tanzania: a critical analysis. BMC Medical Research Methodology, 14, 21.
Hirsch, B., & Meyer, M. (2010). Integrating soft factors into the assessment of cooperative relationships between firms: Accounting for reputation and ethical values. Business Ethics, 19, 81–94.
Hughes, R. (1998). Considering the Vignette Technique and its Application to a Study of Drug injecting and HIV Risk and Safer Behaviour. Sociology of Health & Illness, 20, 381–400.
Hughes, R., & Huby, M. (2001). The application of vignettes in social and nursing research. Journal of Advanced Nursing, 37, 382–386.
Hutt, R. W. (2016). Reputation on the line: the Starbucks cases. Journal of Business Strategy, 37, 19–26.
Jenkins, N. (2006). Developing interactive vignettes in a study of young people's injury-risking behavior. Qualitative Researcher, 7–8.
Jenkins, N., Bloor, M. J., Fischer, J., Berney, L., & Neale, J. (2010). Putting it in context: the use of vignettes in qualitative interviewing. Qualitative Research, 10, 175–198.
Lieberman, A. (1987). Documenting Professional Practice: The Vignette as a Qualitative Tool. In Annual Meeting of the American Educational Research Association (pp. 1–14). Washington: Annual Meeting of the American Educational Research Association.
Mariano, S. (2018). Initiating, challenging and improving knowledge in organizational contexts. Management Research Review, 41, 278–295.
Miles, M. B. M., & Huberman, A. M. (1994). Qualitative Data Analysis: A Methods Sourcebook. (Thousand Oaks, Ed.). CA: Sage.
Renold, E. (2002). Using Vignettes in Qualitative Researsch. Building Research Capacity, 3–5.
Reputation Institute. (2016). Reputation Leaders Study 2016: How Global Executives Grapple with Today's Reputation Risks and Capitalize on Opportunities.
Rhee, M., & Kim, T. (2012). After the collapse: A behavioral theory of reputation repair. In The Oxford Handbook of Corporate Reputation (pp. 446–465). Oxford, UK: Oxford University Press.
Rhee, M., & Valdez, M. E. (2009). Contextual Factors Surrounding Reputation Damage With Potential Implications for Reputation Repair. The Academy of Management Review, 34, 146–168.
Roberts, P. W., & Dowling, G. R. (2002). Corporate reputation and sustained superior financial performance. Strategic Management Journal, 23, 1077–1093.
Santos, M. C. G., & Pinho, M. (2012). Estratégias tecnológicas em transformação: um estudo da indústria farmacêutica brasileira. Gestão & Produção, 19, 405–418.
Spalding, N. J., & Phillips, T. (2007). Exploring the use of vignettes: from validity to trustworthiness. Qualitative Health Research, 17, 954–962.
Sydow, J. (1998). Understanding the Constitution of Interorganizational Trust. In Trust within and between organizations: Conceptual issues and empirical applications. (pp. 12–14). Oxford, UK: Oxford University Press.
Tettegah, S., Bailey, B. P., & Taylor, K. (2007). Clover: Narratives and Simulations in Virtual Environments. The Journal of Negro Education, 76, 43–56.
Wagner, S. M., Coley, L. S., & Lindemann, E. (2011). Effects of suppliers' reputation on the future of buyer-supplier relationships: The mediating roles of outcome fairness and trust. Journal of Supply Chain Management, 47, 29–48.
Wilson, J., & While, A. E. (1998). Methodological issues surrounding the use of vignettes in qualitative research. Journal of Interprofessional Care.
Wright, J. M., Heathcote, K., & Wibberley, C. (2014). Fact or fiction: Exploring the use of real stories in place of vignettes in interviews with informal carers. Nurse Researcher, 21, 39–43.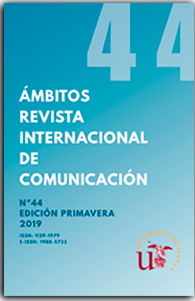 Descargas
Licencia
Ámbitos. Revista internacional de Comunicación es una publicación de acceso libre, ofrece su contenido bajo el principio de que hacer disponible gratuitamente la investigación al publico apoya a un mayor intercambio de conocimiento global.
Ámbitos. Revista internacional de Comunicación se adhiere a las diferentes iniciativas que promueven el acceso libre al conocimiento, por lo que todos los contenidos son de acceso libre y gratuito y se publican bajo licencia de Creative Commons Reconocimiento-NoComercial 4.0 Internacional.
En virtud de ello, los autores que publiquen en esta revista aceptan las siguientes condiciones:
Los autores conservan los derechos de autor y ceden a la revista el derecho de la primera publicación, con el trabajo registrado con la licencia de atribución de Creative Commons, que permite a terceros utilizar lo publicado siempre que mencionen la autoría del trabajo y a la primera publicación en esta revista.

Los autores pueden realizar otros acuerdos contractuales independientes y adicionales para la distribución no exclusiva de la versión del artículo publicado en esta revista (p. ej., incluirlo en un repositorio institucional o publicarlo en un libro) siempre que indiquen claramente que el trabajo se publicó por primera vez en esta revista.

Se permite y recomienda a los autores publicar su trabajo en Internet (por ejemplo en páginas institucionales o personales) ya que puede conducir a intercambios productivos y a una mayor y más rápida difusión del trabajo publicado (vea The Effect of Open Access).