IMAGINANDO EL CARIBE DESDE CÁDIZ: LA ESCRITURA Y PINTURA DE MICHELINE DUSSEK
Palabras clave:
diáspora, haitiana, subalternidad, interseccionalidad, crítica tercermundista
Resumen
Siendo una de pocas voces hispanohablantes de la diáspora haitiana, la escritora, pintora y activista Micheline Dusseck está al margen de la crítica literaria tanto española como haitiana. El artículo analiza cómo saca a la luz en su obra las experiencias marginalizadas de la mujer subalterna de Haití cuya particular invisibilidad se perfila por la intersección de raza, clase y género.
Abstract
As one of the few Spanish-speaking voices in the Haitian diaspora, the writer, painter, and activist Micheline Dusseck is on the fringes of both Spanish and Haitian literary criticism. The article analyzes how she brings to light in her work the marginalized experiences of the subordinate women of Haiti whose particular invisibility is outlined by the intersection of race, class and gender.

Descargas
Los datos de descargas todavía no están disponibles.
Citas
Anzaldúa, G., Borderlands/La Frontera: The New Mestiza, San Francisco, Aunt Lute Books, 1987.
Bringas López, A. M., "Perspectives on Caribbean Gender Relations in Narratives by Velma Pollard, Hazel D. Campbell and Micheline Dusseck" en Juan E. Tazón Salces/Isabel Carrera Suárez (ed.), Post/Imperial Encounters: Anglo-Hispanic Cultural Relations, New York, Rodopi, 2005, pp. 101-118.
Charles, C., "Gender and Politics in contemporary Haiti: The Duvalierist state, transnationalism, and the emergence of a New Feminism (1980-1990)", en: Feminist Studies 21, 1 (1995), pp. 135-64.
Collins, P. H., "Learning from the Outsider Within: The Sociological Significance of Black Feminist Thought", en Social Problems 33,6 (1986), pp.14-32.
Combahee River Collective, "A Black Feminist Statement" [1977], James, J./Sharpley-Whiting, D. (ed.): The Black Feminist Reader, Walden, Blackwell, 2000, pp. 261-270.
Constenla, T., "Las fronteras solo sirven para marginalizar a los pobres" (entrevista a Micheline Dusseck), El País, 15.09.1998. Internet. 12-09-2013. http://elpais.com/diario/1998/09/15/andalucia/905811733_850215.html.
Crenshaw, K., "Mapping the Margins: Intersectionality, Identity Politics, and Violence Against Women of Color", Stanford Law Review, 43,6 (1991), pp. 1241-1299.
Danticat, E., "We are ugly, but we are here" (1996). The Caribbean Writer 10. Internet. 07-01-13. http://www2.webster.edu/~corbetre/haiti/literature/danticat-ugly.htm.
Danticat, E., "Out of the Shadow" (2006). The Progressive. Internet. 07-01-13. http://www.progressive.org/mag_danticat0606.
Davies, C. B., – Fido, E. S., (ed.), Out of the Kumbla: Caribbean Women and Literature. Trenton, Africa World Press, 1990.
Dusseck, M., Ecos del Caribe. Sevilla, Ediciones Albores, 2011 [1996].
Dusseck, M., El Encantador de moscas. Sevilla, Ediciones Albores, 2011.
Francis, D., "'Silences too horrific to disturb': Writing sexual histories in Edwidge Danticat's Breath, Eyes, Memory", en Research in African Literatures 35, 2 (2004), pp. 75-90.
Kroll, R., (ed.), Gender Studies. Geschlechterforschung. Ansätze – Personen – Grundbegriffe. Stuttgart/Weimar, Metzler, 2002.
Mirabal, N. R., "Dyasporic appetites and longings: An interview with Edwidge Danticat", Callaloo, 30, 1 (2007), pp. 26-39.
Spivak, G. C., "Can the subaltern speak?" en Nelson, C./Grossberg, L. (ed.) Marxism and the Interpretation of Culture, Chicago, University of Illinois Press, 1988, pp. 271-313.
Walker, A., In Search of Our Mothers' Gardens: Womanist Prose. New York: Harcourt Brace and Jovanovich, 1983.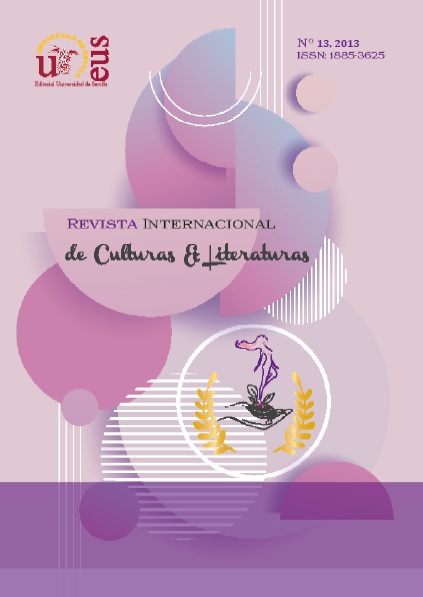 Descargas
Cómo citar
Kerper, B. (2013). IMAGINANDO EL CARIBE DESDE CÁDIZ: LA ESCRITURA Y PINTURA DE MICHELINE DUSSEK. Revista Internacional De Culturas Y Literaturas, (13), 63–73. Recuperado a partir de https://revistascientificas.us.es/index.php/CulturasyLiteraturas/article/view/7444
Sección
Artículos español
Recibido 2019-01-11
Aceptado 2019-01-11
Publicado 2013-04-09