Geografía de los procesos de innovación del clúster aeronaútico andaluz.
Palabras clave:
Espacios tecnológicos, industria aeroespacia, innovación, conocimiento tácito, territorio
Resumen
 Esta investigación tiene por objetivo el análisis de la actividad innovadora en los recintos tecnológicos dedicados a la actividad aeronáutica de Andalucía. Concretamente, se analizan si existen diferencias significativas en términos de innovación entre las firmas localizadas en espacios innovadores y las que no. También, se estudian los elementos de los recintos tecnológicos que pueden constituir un reclamo para las empresas innovadoras y se analizan cuáles de ellos podrían ser más efectivos en la atracción de las empresas.
Descargas
Los datos de descargas todavía no están disponibles.
Citas
Antonelli, C. (2000): "Collective Knowledge Communication and Innovation: the Evidence of Tecnological Districts", Regional Studies 34, 535-47. http://dx.doi.org/10.1080/00343400050085657
Aerostrategy Management Consulting (2009): "Aerospace Globalization 2.0: Impliactions for Canada´s Aerospace industry". Aerostrategy.
Arundel, A; Geuna, A. (2001): Does proximity matter for knowledge transfer from public institutes and universities to firms? (No. 73). SPRU-Science and Technology Policy Research, University of Sussex. http://www.sussex.ac.uk/Units/spru/publications/imprint/sewps/sewp73/sewp73.pdf
Audretsch, D., and Feldman, M. (2004):"Knowledge spillovers and the geography of innovation". Handbook of regional and urban economics, 4, 2713-2739. http://dx.doi.org/10.1016/S1574-0080(04)80018-X
Arvanitis, R. (2002): The Effectiveness of Government Promotion of Advances Manufacturing Technologies (ATM): An Economic Analysis Based on Swiss Micro Data". Small Business Economics, Vol. 19, p. 321-340.
http://dx.doi.org/10.1023/A:1019606131837
Becattini, G. (2002): "Del distrito industrial marshalliano a la "teoría del distrito" contemporánea, una breve reconstrucción crítica". Investigaciones Regionales, nº 001.
Benko, G., y Lipietz, A. (1994): Las regiones que ganan, Ed. Alfons el Magnàmim, Generalitat Valenciana.
Boschma, R. (2009): Evolutionary economic geography and its implications for regional innovation policy. Report for the OECD.
Brinkley, I. (2008): The knowledge economy: How knowledge is reshaping the economic life of nations. Work Foundation.
Byosiere, P. (1999): "Fusión y difusión de las esferas de conocimiento en el ámbito regional", en Las Sociedades del Conocimiento, editado por Cluster del Conocimiento, Zamudio, pp. 81-86.
Castells, M.; Hall, P. (1994): Technopolos of the world. The making of twenty-firstcentury industrial complexes. Routledge, London and New York.
Castells, M. (1995): La ciudad informacional. Tecnologías de la Información, reestructuración económica y el proceso urbano-regional. Alianza Editorial, Madrid.
Cohen, W. and Levinthal, D. (1990): "Absorptive Capacity: A new perspective on learning and innovation". Administrative Science Quarterly, 35: 128-152. http://dx.doi.org/10.2307/2393553
Contreras, G. (2012): "Asociacionismo en red para la integración sociodigital en Andalucía", Revista de Estudios Andaluces, 29: 105-126. http://dx.doi.org/10.12795/rea.2012.i29.05
Cooke, P. (2001): "Regional innovation systems, clusters, and the knowledge economy", Industrial and Corporate Change, 10 (4): 945-974. http://dx.doi.org/10.1093/icc/10.4.945
Eurostat (2010): Community Innovation Survey (CIS). [En línea]. http://epp.eurostat.ec.europa.eu/portal/page/portal/microdata/cis [4 de septiembre de 2013].
Cowan, R. (2009): "Knowledge Portfolios and the organization of Innovation Networks". The Academy of Management, vol 34 (2): 320-342. Deloitte, 2012. Global aerospace and defense industry outlook. MERIT Memorandum 2/20-018, MERIT, Maastricht.
European Commission (2008): FWC Sector Competitiveness Studies - Competitiveness of the EU Aerospace Industry with focus on: Aeronautics Industry. Maastricht.
European Commision (2012): The 2012 EU Industrial R&D Investment Scoreboard. Luxembourg.
Feldman, M. (1994): "Knowledge complementarity and innovation", Small Business Economics 6(3): 363-372. http://dx.doi.org/10.1007/BF01065139
Florida, R. (2002): Rise of the creative class. PLerseus, New York.
Fundación Hélice. (2011): Andalucía Aerospaceland. Territorio del conocimiento aeroespacial. Fundación Hélice, Sevilla.
Gertler, M. S. (2003): Tacit knowledge and the economic geography of context, or the undefinable tacitness of being (there). Journal of economic geography, 3(1):75-99. http://dx.doi.org/10.1093/jeg/3.1.75
Gonzalez, R. (2012): "Estrategia y mercado de tecnología: Tipología de empresas innovadoras andaluzas", Revista de Estudios Andaluces, nº 29, pp.127-157. http://dx.doi.org/10.12795/rea.2013.i29.06
Grant, R. M. (1996): "Toward a Knowledge‐Based Theory of the firm". Strategic Management Journal, 17(S2), 109-122. http://dx.doi.org/10.1002/smj.4250171110
Griliches, Z. (1979): "Issues in assessing the contribution of R&D to productivity growth," Bell Journal of Economics 10: 92-116. http://dx.doi.org/10.2307/3003321
Hollanders H., Van Cruysen, A.; Vertesy, D. (2008): Sectoral innovation systems in Europe: The case of the aerospace sector. Maastricht : MERIT.
Jaffe, A. B. (1989): "Real effects of academic research", American Economic Review 79 (5): 957-970.
Jordá, R. (1992):"Modernización tecnológica como estrategia de desarrollo para Andalucía", Revista de Estudios Andaluces, nº 18:27-67.
Jordá, R y González, R. (2009): "Binomio innovación-internacionalización y su relación con la estrategia en las empresas innovadoras localizadas en Andalucía". Scripta Nova. Revista Electrónica de Geografía y Ciencias Sociales. [En línea]. Barcelona: Universidad de Barcelona, 1 de octubre de 2009, vol. XIII, nº 300.
Jordá, R. (2007): "Comportamientos innovadores de las empresas de servicios avanzados: aprendizaje y entorno en Andalucía", Economía industrial, nº 363, (Ejemplar dedicado a: Emprendedores e innovación en España), pp. 205-221.
Jordá, R y Ruiz, F. (2009): "Comportamiento innovador de las empresas internacionalizadas por ámbitos territoriales en Andalucía. Flujos y Sistemas", Boletín de la Asociación de Geógrafos Españoles, nº. 50: 315-348.
Jordá, R y Ruiz, F. (2012): "Compra tecnológica y flujos en Andalucía". Boletín de la Asociación de Geógrafos Españoles, nº 60, 165-186.
Lankhuizen, M. (1998): "Catching Up, Absorption Capability and the Organisation of Human Capita"l, MERIT Research Memoranda 1998-017.
Lucendo, A.L. (2007): "Cadenas Productivas e Innovación en el Marco Territorial Andaluz". Consejo Económico y Social de Andalucía. Sevilla, España.
Lucendo, A.L. y Relaño, R. (2012): Tipología de relaciones productivas y posicionamiento estratégico de las empresas innovadoras andaluzas. Revista de Estudios Regionales, 94: 139-166.
Lundvall, B-A and Johnson, B. (1994): "The learning economy", Journal of Industry Studies. Vol. 1 (2), pp. 23-42.
Martínez, A. (2012): "Análisis de las redes empresariales y su incidencia territorial. transferencia tecnológica, aprendizaje e innovación", Revista de Estudios Andaluces, nº 29, pp. 18-58.http://dx.doi.org/10.12795/rea.2013.i29.02
Maskell, P. and Malmberg, A. (1999): "Localised learning and industrial competitiveness", Cambridge Journal of Economics, 23, 167-186. http://dx.doi.org/10.1093/cje/23.2.167 Menzel,
M.P. (2006): "The Character of Innovative Processes in Geographical and Non-geographical Contexts: Some Considerations and a Model". Conference: The Evolution of Capabilities and Industrial Dynamics. Skørping, Denmark
Monsted, M. (2006): "Francois Perroux's theory of "growth pole" and "development" pole: a critique", Antipode, vol 6 (2): 106–113 http://dx.doi.org/10.1111/j.1467-8330.1974.tb00600.x
Nelson, R.R. and Winter, S.G. (1982): An Evolutionary Theory of Economic Change. Harvard University Press, Cambridge, MA. Niosi, J. (2005): "Aerospace Clusters: Local or Global Knowledge Spillovers?". Industry and Innovation,Vol. 12, No. 1. http://dx.doi.org/10.1080/1366271042000339049
Nonaka, I. and Takeuchi, H. (1995): The Knowledge–Creating Company: How Japanese Companies Create the Dynamics of Innovation. Oxford University Press, Oxford.
Novick, M. (2002): "Aprendizaje y conocimiento como ejes de la competitividad capacitación e innovación en dos tramas productivas de la industria manufacturera Argentina". En Ibarrola, M. (edit). Sistemas locales y capacitación. Montevideo: CINTERFOR-OIT, Universidad de León, 2002. Buenos Aires, Argentina.
OECD, Eurostat (2005): Oslo Manual. Guidelines for Collecting and Interpreting Innovation Data, 3rd Edition. The Measurement of Scientific and Technological Activities, OECD Publishing.
Ondátegui, J.C. (2001): "Parques científicos y tecnológicos: los nuevos espacios productivos del futuro", Investigaciones Geográficas, nº 25, pp. 95-118.
Osterloh, M. y Frey, B.S. (2000): "Motivation, knowledge transfer and organizational forms", Organization Science, vol. 11, nº 5, pp. 538-550. http://dx.doi.org/10.1287/orsc.11.5.538.15204
PWC (2012): Aerospace & Defense 2010 year in review and 2011 forecast. PWC
Polanyi, M. (1966): The Tacit Dimension. Doubleday, New York
Porter, M. (1991): La ventaja competitiva de las naciones. Barcelona. Plaza & Janés.
R&D Magazine (2012): "Global R&D Funding Forecast". R&D .
Ruiz, F. (2005): I+D y Territorio. Análisis y Diagnóstico de la Innovación Empresarial en Andalucía. Consejo Económico y Social de Andalucía, Sevilla.
Sacristán, M.; Domínguez, J.A.; Álvarez, M.J. (2002): Las tecnologías avanzadas de fabricación en la aeronáutica andaluza. Hacia una Mejora de la competitividad. Junta de Andalucía. Consejería de Empleo y Desarrollo Tecnológico. Dirección General de Industria, Energía y Minas, Sevilla.
Schumpeter, J. (1961): The Theory of Economic Development, University Press, Oxford.
Si, L; Berg, D. and Walsh, S. (2007): "Returnees and Firm Innovation in a Dynamic Innovation Diffusion Network Model: A perspective from emerging economies". Presented at the 2006 IAMOT Meeting, Beijing China, May 2006.
Storper, M., and Walker, R. (1989): "The Capitalist Imperative. Territory", Technology and Industrial Growth, Basil Blackwell, New York.
Von Hipple, E. (1994): "Sticky information and the locus of problem solving: implications for innovation", Management Science 40: 429-439.http://dx.doi.org/10.1287/mnsc.40.4.429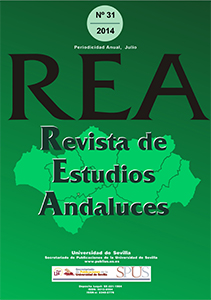 Descargas
Cómo citar
López-Otero, J. (2014). Geografía de los procesos de innovación del clúster aeronaútico andaluz. Revista De Estudios Andaluces, (31), 127–156. https://doi.org/10.12795/rea.2014.i31.06
Licencia
La edición electrónica de la Revista de Estudios Andaluces se ofrece en acceso abierto desde el número 28 publicado en 2011 hasta la actualidad. Las ediciones impresa y electrónica de esta Revista son editadas por la Editorial de la Universidad de Sevilla, siendo necesario citar la procedencia en cualquier reproducción parcial o total.
La Revista de Estudios Andaluces no cobra tasas por el envío de trabajos, ni tampoco cuotas por la publicación de sus artículos. La Revista es gratuita desde el momento de la publicación de cada número y sus contenidos se distribuyen con la licencia "CreativeCommons Atribución-NoComercial-SinDerivar 4.0 Internacional" , que permite al usuario de la Revista de Estudios Andaluces criterios que cumplen con la definición de open access de la Declaración de Budapest en favor del acceso abierto. Puede consultar desde aquí la versión informativa y el texto legal de la licencia. Esta circunstancia ha de hacerse constar expresamente de esta forma cuando sea necesario.
Recibido 2016-06-01
Aceptado 2016-06-01
Publicado 2014-07-25