Valoración del Capital Social en el Transporte Público y la Movilidad Sostenible en Venezuela. Una Revisión Sistemática de la Literatura
Palabras clave:
Capital social; Transporte público; Movilidad sostenible; Venezuela; Revisión sistemática
Resumen
En este artículo se ha realizado una revisión sistemática entre los años 2008 y 2020 para identificar la valoración del capital social en el transporte público y la movilidad sostenible en Venezuela. Desde el punto de vista metodológico, se realizaron búsquedas en la base de datos abierta Ebscohost, encontrándose 67 estudios, de los cuales al analizarlos conforme a los criterios de inclusión y exclusión, solo 5 tenían relación con la temática. El capital social debe entederse que contribuye a la promoción del desarrollo económico, la superación de la pobreza y gobernabilidad democrática de los países. Sin embargo, en Venezuela este tiende a adquirir un carácter negativo y precario, dada la situación de crisis económica, social y política en la que se encuentra sumida este país. En cuanto al transporte público, su análisis y valoración resulta sustancial en Venezuela ya que este posee un carácter marcadamente débil, pues se constata la existencia en el país de una escasa integración de este con otros modos de transporte, a la vez que la ausencia de una movilidad sostenible.
Descargas
Los datos de descargas todavía no están disponibles.
Citas
Abraham, A. (1985). Subsistence Credit: Survival Strategies among Traditional Fishermen. Economic and Political Weekly, 20(6), 247-52
Axhausen, K. (2005). Redes sociales y viajes: Algunas hipótesis. K. Donaghy, S. Poppel reuter.
Banco Mundial (2001). Juntos podemos niveles y determinantes del capital social de Argentina. http://documents1.worldbank.org/curated/es/982731468201587870/pdf/242810SPANISH01ates0del0CS01PUBLIC1.pdf
Bowles, S. (1999). Social Capital and Community Governance. Focus, 20(3), 6-10.
Bunting, M. (2004). Making Public Transport Work. McGill-Queen's University Press.
Burt, R. (1992). The Contingent Value of Social Capital. Administrative Science Quarterly 42, 339-365.
Canitez, F. (2019). Urban public transport systems from new institutional economics perspective: a literature review. Transport Reviews, 39(4), 511–530. https://doi.org/10.1080/01441647.2018.1552631
Carciente, S. & Varnagy, D. (2005). Capital financiero y capital social: Dos ingredientes del Desarrollo. Líder: revista labor interdisciplinaria de desarrollo regional,13, 13-30
Cass, N., Shove, E., & Urry, J. (2005). Social Exclusion, Mobility and Access. The Sociological Review, 53(3), 539–555. https://doi.org/10.1111/j.1467-954X.2005.00565.x
Collier,P & Willen, J. (1999). Explainig African Economic Performance. Journal of Economic Literature, XXXVII, 64-111.
Currie, G., & Stanley, J. (2008). Investigating Links between Social Capital and Public Transport. Transport Reviews, 28(4), 529–547. https://doi.org/10.1080/01441640701817197
De Rus, G., Campos, J. & Nombela, G. (2003). Economía del transporte. Antoni Bosch Editor. Universidad de las Palmas de Gran Canarias.
Easterly, W. (2000). Happy Societies. The Middle Class Consensus and Economic Development. Development Research Group. World Bank
Fukuyama, F. (1995). Trust: The Social Virtues and the Creation of Prosperity. Free Press.
Grootaert, C. & Narayan, D. (2000). Local Institutions, Poverty and Household Welfare in Bolivia. Local Level Institutions. Documento de trabajo 9. World Bank, Social Development Department.
República Bolivariana de Venezuela (2008). Ley de Transporte Terrestre. Gaceta Oficial Nº-38.985.
Mattisson, K., Håkansson, C., & Jakobsson, K. (2015). Relationships Between Commuting and Social Capital Among Men and Women in Southern Sweden. Environment & Behavior, 47(7), 734–753. https://doi.org/10.1177/0013916514529969
Ministerio del Poder Popular para Transporte y Obras Públicas (2018, 01 de noviembre). Ministro Ing. Hipólito Abreu presidió la instalación del Órgano Superior de la Misión Transporte en el estado Vargas. http://www.mppt.gob.ve/2018/ministro-ing-hipolito-abreu-presidio-la-instalacion-del-organo-superior-de-la-mision-transporte-en-el-estado-vargas/
Ministerio del Poder Popular para Transporte y Obras Públicas (2016). Misión Transporte. http://www.mpptop.gob.ve/mision-transporte/
Molinero, M. & Sanchez, A. (1998). Transporte Publico: Planeación, Diseño, Operación y Administración. Fundación ICA.
Moser, C. (1996). Confronting Crisis: A Comparative Study of Household Responses to Poverty and Vulnerability in Four Poor Urban Communities. Environmentally and Socially Sustainable Development Studies and Monographs Series 8. World Bank.
Narayan, D. & Lant, P. (1999). Cents and sociability: household income and social capital in rural Tanzania. Economic Development and Cultural Change, 47(4), 871-897.
Östh, J., Dolciotti, M., Reggiani, A., & Nijkamp, P. (2018). Social Capital, Resilience and Accessibility in Urban Systems: a Study on Sweden. Networks & Spatial Economics, 18(2), 313–336. https://doi.org/10.1007/s11067-017-9375-9
Padrón, C. (2020). Impacto Económico y Social de los Vehículos de Carga "Perreras" en Venezuela con énfasis en Vargas. Revista Caribeña de Ciencias Sociales. https://www.eumed.net/rev/caribe/2020/06/transporte-urbano-venezuela.html
Petticrew, M. & Roberts, H. (2006). Systematic Reviews in the Social Sciences: a practical guide BLACKWELL PUBLISHING. Hard cover: Alk. paper.
Portes, A. (1998). Social capital: its origins and applications in modern Sociology. Annual Review of Sociology, 24(1), pp. 1–24.
Preston, H. & Raje, F. (2006). Accessibility, mobility and transport-related social exclusion. Journal of Transport Geography. https://doi.org/ 10.1016/j.jtrangeo.2006.05.0
Putnam, R. (1993). Making Democracy Work: Civic Traditions in Modern Italy. Princeton University Press, Princeton.
Putnam, R. (2000). The prosperous community. Social capital and public life. The American Prospect, 4 (13), 35-42.
Programa Venezolano de Educación Acción en Derechos Humanos (2016). Transporte público, accesible y de calidad, para todas y todos. Una propuesta ante el aumento de la gasolina. https://www.derechos.org.ve/web/wp-content/uploads/transportepublico-copia.pdf
República Bolivariana de Venezuela (1998, 26 de junio). Reglamento de la Ley de Tránsito Terrestre República Bolivariana de Venezuela. Gaceta Oficial No. 5.240, 26 de junio de 1998. Caracas: Venezuela.
Rezeanu, C.I., Briciu, A., Briciu, V., Repanovici, A., & Coman, C. (2016). The Influence of Urbanism and Information Consumption on Political Dimensions of Social Capital: Exploratory Study of the Localities Adjacent to the Core City from Brașov Metropolitan Área, Romania. PLoS ONE, 11(1), 1–24. https://doi.org/10.1371/journal.pone.0144485
Seligman, A. (1997). The Problem of Trust. Princeton University Press.
Shove, E. (2002). Rushing Around: Coordination, Mobility And Inequality. Draft paper for the Mobile Network Meeting, Department Sociology. Lancaster University. https://www.lancaster.ac.uk/staff/shove/choreography/rushingaround.pdf
Stanley, J. & Currie, G. (2006). Social Capital, Community Strengthening and Public Transport Stage 1—Methodology Development Project. Institute of Transport Studies, Monash University.
Temple, J. (1998). initial conditions, social capital and growth in Africa. Journal of African Economies, 7(3), 309-347.
Urry, J. (2002). Mobility and proximity. Sociology, 36(2), 255–274.
Von Mentz, B. (2003). Movilidad Social de Sectores Medios en México. Una Retrospectiva Histórica (Siglos XVIII al XX). Centro de Investigación y Estudios Superiores en Antropología Social.
Vuchic, V. (2000). Transportation for Livable Cities. Centre for Urban Policy Research Press.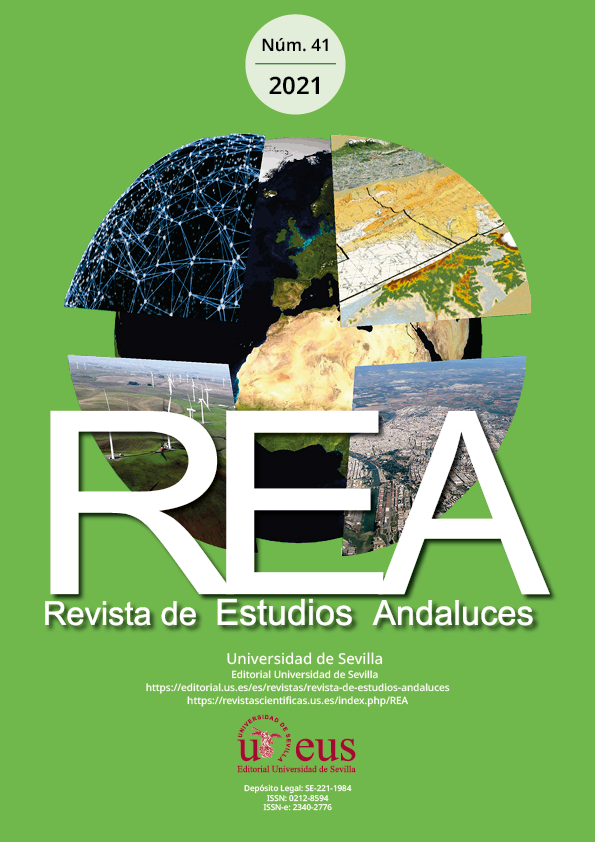 Cómo citar
Padron, C. J. (2021). Valoración del Capital Social en el Transporte Público y la Movilidad Sostenible en Venezuela. Una Revisión Sistemática de la Literatura. Revista De Estudios Andaluces, (41), 109–124. https://doi.org/10.12795/rea.2021.i41.06
Licencia
Derechos de autor 2021 Revista de Estudios Andaluces
Esta obra está bajo una licencia internacional Creative Commons Atribución-NoComercial-SinDerivadas 4.0.
La edición electrónica de la Revista de Estudios Andaluces se ofrece en acceso abierto desde el número 28 publicado en 2011 hasta la actualidad. Las ediciones impresa y electrónica de esta Revista son editadas por la Editorial de la Universidad de Sevilla, siendo necesario citar la procedencia en cualquier reproducción parcial o total.
La Revista de Estudios Andaluces no cobra tasas por el envío de trabajos, ni tampoco cuotas por la publicación de sus artículos. La Revista es gratuita desde el momento de la publicación de cada número y sus contenidos se distribuyen con la licencia "CreativeCommons Atribución-NoComercial-SinDerivar 4.0 Internacional" , que permite al usuario de la Revista de Estudios Andaluces criterios que cumplen con la definición de open access de la Declaración de Budapest en favor del acceso abierto. Puede consultar desde aquí la versión informativa y el texto legal de la licencia. Esta circunstancia ha de hacerse constar expresamente de esta forma cuando sea necesario.
Recibido 2020-07-29
Aceptado 2021-01-12
Publicado 2021-02-25