Precariado e Género: a trajectória de mulheres portuguesas rumo a uma nova classe em formação
Palabras clave:
Precariado, Mulheres, Trabalho, Flexibilidade. Precariat, Women, Labor, Flexibility.
Resumen
A partir das características apontadas por Standing para definir o conceito de precariado, esta investigação foca-se no caso particular de mulheres portuguesas diplomadas, que acreditaram que o ensino superior lhes permitiria ter uma carreira e uma trajectória segura de trabalho. Os dados foram recolhidos através de entrevistas semiestruturadas, analisados de acordo com as técnicas de análise de conteúdo, e codificadas com o auxílio do software Atlas/TI. Os resultados evidenciam como estas experiências profissionais estão na base de

sentimentos associados à frustração de estatuto, ausência de perspectivas seguras de futuro e por uma maior vulnerabilidade às armadilhas da precariedade.

Based on the characteristics pointed out by Standing to define the concept of precariat, this research focuses on the specific case of Portuguese women graduates, who believed that higher education would allow them to have a career and a safe career path. Data were collected through semi-structured interviews, analyzed according to the techniques of content analysis, and coded with the aid of Atlas / TI software. The results show how these professional experiences are based on feelings associated with status frustration, lack of secure future prospects, and greater vulnerability to precariousness traps.
Descargas
Los datos de descargas todavía no están disponibles.
Citas
ACKER, J. (2004). Gender, capitalism and globalization. Critical sociology, 30(1), 17-41.
BARDIN, L. (2006). Análise de conteúdo. Lisboa: edições, 70, 225.
BAUMAN, Z. (1998). Globalization: The human consequences. Columbia University Press.
BECK, U. (2000). What is globalization?. John Wiley & Sons.
BLANDEN, J., Gregg, P., & Machin, S. (2005). Intergenerational mobility in europe and north
america. Report supported by the Sutton Trust, Centre for Economic Performance,
London School of Economics.
BOGDAN, R., & Biklen, S. (1994). Investigação qualitativa em Educação: fundamentos,
métodos e técnicas. Investigação qualitativa em educação. Portugal: Porto Editora, 15-80.
CASACA, S. F. (2010). A (des) igualdade de género e a precarização do emprego.
A igualdade de mulheres e homens no trabalho e no emprego em Portugal, Lisboa, CITE, 261-291.
___________. (2013). As novas dinâmicas laborais e os desafios da articulação com a vida familiar.
Sociologia, problemas e práticas, (72), 31-52.
CHAUI, M. (2014). A ideologia da competência. Belo Horizonte, Autêntica.
DUARTE, A. M. (2011). As faces precárias da flexibilidade. Precários em Portugal:
Entre a fábrica e o "call center", Lisboa, Edições, 70, 15-25.
CITE – Comissão para a Igualdade no Trabalho e no Emprego. (2015). Desigualdade Salarial
entre Homens e Mulheres em Portugal. Retirado de: http://cite.gov.pt/pt/destaques/
complementosDestqs2/Desigualdade_salarial.pdf. Consulta: 15 Abril 2017.
EISENSTEIN, H. (2005). A dangerous liaison? Feminism and corporate globalization.
Science & Society, 69(3), 487-518.
______________. (2009). Feminism seduced: How global elites use women's labor
and ideas to exploit the world. Routledge.
FERREIRA, V. (1998). As Mulheres em Portugal: Situação e Paradoxos, n. º 119. Coimbra, CES.
FOCUCAULT, M. (1987). Vigiar e punir. Rio de Janeiro, Editora Vozes.
FRASER, N. (2009). Feminism, capitalism, and the cunning of history. An Introduction.
FMSHWP-2012-17. 2012.
GIDDENS, A. (1999). Runaway world. London, Profile books.
GIL, A. C. (1989). Métodos e técnicas de pesquisa social. 6. ed. Editora Atlas SA.
HARDT, M., & Negri, A. (2000). Empire. Cambridge, Mass. Harvard Uni. Pr.
KNIGHT, F. H. (1964). Risk, uncertainty and profit. New York, Courier Corporation.
MERRIAM, S. B. (1998). Qualitative Research and Case Study Applications in Education.
Revised and Expanded from" Case Study Research in Education".
MESQUITA, R. D., & Matos, F. R. N. (2014). Pesquisa Qualitativa e Estudos Organizacionais:
história, abordagens e perspectivas futuras. IV Colóquio Internacional de Epistemologia e
Sociologia da Ciência da Administração.
MESQUITA, R. F., de Sousa, M. B., Martins, T. B., & Matos, F. R. N. (2014).
Óbices metodológicos da prática de pesquisa nas ciências administrativas.
Revista Pensamento Contemporâneo em Administração, 8(1), 50.
MINAYO, M. C. S. (2000). Ciência, técnica e arte: o desafio da pesquisa social. de Souza-Minayo
MC, compilador. Pesquisa social: teoria, método e criatividade. Petrópolis: Vozes. 23, 9-29.
MONTEIRO, R. (2015). Trabalho em tempo de Austeridade. Retirado de:
https://www.researchgate.net/publication/276284233. Consulta: 15 Abril 2017.
MORINI, C., & Bergas, J. M. G. (2014). Por amor oa la fuerza: feminización del trabajo y
biopolítica del cuerpo. Madrid, Ed. Traficantes de Sueños.
MORINI, C., & Fumagalli, A. (2010). Life put to work: Towards a life theory of value.
Ephemera: theory & politics in organization, 10(3/4), 234-252.
OECD (2010). Going for Growth. Retirado de: http://dx.doi.org/10.1787/growth-2010-en
Consulta: 15 Abril 2017.
OKSALA, J. (2013). Feminism and neoliberal governmentality. Foucault Studies, (16), 32-53.
ORNELAS, M., Matos, F., Machado, D. Q., & Mesquita, R. F. (2017). Precariado e Gênero:
aplicação da abordagem qualitativa na compreensão da experiência de mulheres qualificadas
no mercado de trabalho flexível. CIAIQ 2017, 3. Retirado de:
http://proceedings.ciaiq.org/index.php/ciaiq2017/article/view/1136 Consulta: 15 Abril 2017.
PAUGAM, S. (2000). Le salarié de la précarité: Les nouvelles formes de l'intégration professionnelle.
Préface inédite de l'auteur. Presses universitaires de France.
PORDATA (2016). Base de dados Portugal Contemporâneo. Retirado de:
http://www.pordata.pt/Portugal/Popula%C3%A7%C3%A3o+empregada+do+sexo+
feminino+total+e+por+sector+de+actividade+econ%C3%B3mica-33 Consulta: 15 Abril 2017.
________ (2017). Base de dados Portugal Contemporâneo. Retirado de: http://www.pordata.pt/Portugal/Popula%C3%A7%C3%A3o+residente+com+15+e+mais+
anos+por+n%C3%ADvel+de+escolaridade+completo+mais+elevado+(percentagem)-884 Consulta: 15 Abril 2017.
ROLNIK, S. (2011). The geopolitics of pimping. translated by Brian Holmes. In Critique of Creativity: Precarity, Subjectivity, and Resistance in the 'Creative Industries', edited by Gerald Raunig, Gene Ray, and Ulf Wuggenig, 23-40.
ROSA, E. (2016). Eugenio Rosa, Discriminação da Mulher no trabalho contínua em Portugal, uma situação que urge, visto em 15 Janeiro 2017. Retirado de: https://www.eugeniorosa.com/Sites/eugeniorosa.com/Documentos/2016/51-2016-discriminacao-mulher.pdf. Consulta: 15 Abril 2017.
SAWHILL, I. V. (2008). Trends in intergenerational mobility. Economic Mobility Project (Washington DC: Brookings Institution, 2007).
SILVA, M. R. T. (1981). Feminismo em Portugal na voz de mulheres escritoras do início do século XX. Análise Social, 19(77/79), 875-907.
STANDING, G. (1999). Global feminization through flexible labor. World development, 17(7), 1077-1095. https://doi.org/10.1016/0305-750X(89)90170-8.
____________ (2009). Work after globalization: Building occupational citizenship. Massachusettes, Edward Elgar Publishing.
___________. (2013a). Where's Howard? Global Discourse, 3(3-4), 546-553.
___________. (2013b). Tertiary time: The precariat's dilemma. Public Culture, 25(1 69), 5-23. https://doi.org/10.1215/08992363-1890432.
___________. (2014a). O precariado: a nova classe perigosa. Belo Horizonte: Autêntica.
___________. (2014b). O precariado e a luta de classes. Revista Crítica de Ciências Sociais, (103), 9-24.
___________. (2014c). Why the precariat is not a" bogus concept". Open Democracy.
___________. (2014d). Understanding the precariat through labour and work. Development and change, 45(5), 963-980.
___________. (2014e). A precariat charter: From denizens to citizens. New York, A&C Black.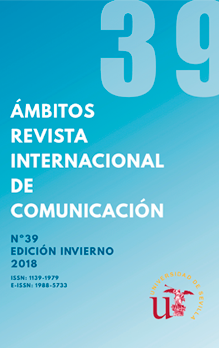 Descargas
Licencia
Ámbitos. Revista internacional de Comunicación es una publicación de acceso libre, ofrece su contenido bajo el principio de que hacer disponible gratuitamente la investigación al publico apoya a un mayor intercambio de conocimiento global.
Ámbitos. Revista internacional de Comunicación se adhiere a las diferentes iniciativas que promueven el acceso libre al conocimiento, por lo que todos los contenidos son de acceso libre y gratuito y se publican bajo licencia de Creative Commons Reconocimiento-NoComercial 4.0 Internacional.
En virtud de ello, los autores que publiquen en esta revista aceptan las siguientes condiciones:
Los autores conservan los derechos de autor y ceden a la revista el derecho de la primera publicación, con el trabajo registrado con la licencia de atribución de Creative Commons, que permite a terceros utilizar lo publicado siempre que mencionen la autoría del trabajo y a la primera publicación en esta revista.

Los autores pueden realizar otros acuerdos contractuales independientes y adicionales para la distribución no exclusiva de la versión del artículo publicado en esta revista (p. ej., incluirlo en un repositorio institucional o publicarlo en un libro) siempre que indiquen claramente que el trabajo se publicó por primera vez en esta revista.

Se permite y recomienda a los autores publicar su trabajo en Internet (por ejemplo en páginas institucionales o personales) ya que puede conducir a intercambios productivos y a una mayor y más rápida difusión del trabajo publicado (vea The Effect of Open Access).