La influencia de François Truffaut en Richard Linklater, las sagas de Antoine Doinel y 'Antes de'
Palabras clave:
Truffaut, Linklater, sagas, nouvelle vague, generación X
Resumen
Con Los cuatrocientos golpes, François Truffaut inauguró un nuevo modo de entender el curso del tiempo cinematográfico, acompañando a un mismo personaje a lo largo de veinte años. En 1994 Richard Linklater inició una nueva saga que comenzó con Antes del amanecer, dando continuidad a sus personajes hasta el día de hoy. De la nouvelle vague a la generación X, estos cineastas proponen un nuevo concepto de evolución temporal cinematográfica, permitiendo observar el crecimiento de sus protagonistas hasta la madurez. Con este artículo descubriremos los elementos que definen estas sagas y por qué son únicas en su género.
Descargas
Los datos de descargas todavía no están disponibles.
Citas
ANDREW, D; GILLAIN, A (2012). It's Time for Truffaut. Cineaste 38:1. 4-10. doi: 10.1002/9781118321591.ch12
BOZELKA, K (2008). An Interview with Richard Linklater. Velvet Light Trap: A Critical Journal of Film & Television, 61. 51-56. CODELL, J. F (2006). Playing Doctor: François Truffaut's L'enfant Sauvage and the Auteur/Autobiographer as Impersonator.
Biography 29.1. 101-122.
CROCE, A (1960). The 400 Blows by François Truffaut. Film Quarterly 13:3. 35-38.
CUTLER, A (2013). Love in Time. Julie Delpy, Ethan Hawke, and Richard Linklater's Before Films. Cineaste 38: 4.
GARCÍA GIL, L (2009). François Truffaut. Madrid: Cátedra.
GILBEY, R (2013). Every time we say goodbye. New Statesman, 14 de junio. 48-50.
GISPERT, E (1998). François Truffaut. Los cuatrocientos golpes. Barcelona: Paidós.
LOPATE, P (2013). The long and winding road in Before Midnight. Filmcomment. Mayo-junio. 20-24.
MARTÍN, A (2008). Qué es el cine moderno. Valdivia: Uqbar.
MONACO, J (2003). The Adventures of Antoine Doinel. Cineaste. Invierno. 69-70.
NEUPERT, R (1995). The End: Narration and Closure in the Cinema. Detroit: Wayne State University Press.
NEYRAT, C (2008). François Truffaut. Madrid: Cahiers du Cinema.
O´PRAY, M (2003). Avant-Garde Film. Forms, Themes and Passions. Londres: Wallflower.
PREMINGER, A (2004). The human comedy of Antoine Doinel: from Honoré de Balzac to François Truffaut. The European Legacy:
Toward New Paradigms, 9:2. 173-193. doi: 10.1080/10848770410001687594.
RIBERA, G (2013). Les quatre cents coups. François Truffaut. Història del Cinema II. Marzo. 1-11.
SHIKODA, S (2006). Adaptation as a filmed Homage: Truffaut's Une belle fille comme moi (1976).Studies in French Cinema 6: 1.
–73. doi: 10.1386/sfci.6.1.65/1
SPEED, L (2007). The Possibilities of Roads Not Taken: Intellect and Utopia in the Films of Richard Linklater. Journal of Popular
Film & Television 35:3. 98-106.
TAUBIN, A (2013). Emotional Pratfalls. Filmcomment. Mayo-junio. 24-27.
THIHER, A (1977). The Existential Play in Truffaut's Early Films. Literature Film Quarterly 5:3.183- 198.
TOWNER, D (1990). Antoine Doinel in the Zoetrope. Literature/ Film Quarterly 18: 4. 230-35.
TRUFFAUT, F (1971). Les aventures d'Antoine Doinel. París: Mercure de France.
TURNER, D (1984). Made in the U.S.A.: The American Child in Truffaut's 400 Blows. Literature Film Quarterly 12:2. 75-89.
VILARÓ I MONCASÍ, A (2011). The Actor's Errancy after Antonie Doinel: on the melancholic Tendency in Contemporary French
Cinema.Comunicació: Revista de Recerca i d'Anàlisi. 28:1. 19-40.
GLOVERSMITH, M (2013). Richard Linklater and the VHS Generation. White City Cinema, 1 de julio. Recuperado 11 de junio
http://whitecitycinema.com/2013/07/01/richard-linklater-and-the-vhs-generation/
LIM, D (2013). Nine more years on, and still talking. The New York Times, 3 de mayo. Recuperado el 8 de agosto 2015:
http://www.nytimes.com/2013/05/05/movies/ethan-hawke-and-julie-delpy-discuss-before-midnight.html?pagewanted=all&_r=0
LOSILLA, C (2013). Introducción a Richard Linklater. Transit. Cine y otros desvíos. 11 de abril. Recuperado 23 noviembre de
http://cinentransit.com/richard-linklater/
SANDHU,S (2009).Film as an Act of Love. New Statesman. 2 de abril. 44-46. Recuperado el 29 de diciembre de 2014:
http://www.newstatesman.com/arts-and-culture
STEVENS, D (2013). Before Midnight. Slate, 24 mayo. Recuperado 7 de agosto 2015:
http://www.slate.com/articles/arts/movies/2013/05/before_midnight_directed_by_richard_linklater_reviewed.html
TAVARES, M (2010). Understanding Cinema: the Avant-gardes and the Construction of Film Discourse. Comunicar 35. 43-51.
Recuperado el 23 de enero de 2015. doi:10.3916/C35-2010-02-04.
WICKMAN, F (2013). The Real Couple Behind Before Sunrise. Slaut, 30 de mayo. Recuperado 11 agosto 2015:
http://www.slate.com/blogs/browbeat/2013/05/30/before_sunrise_inspiration_before_midnight_is_dedicated_to_amy_lehrhaupt.html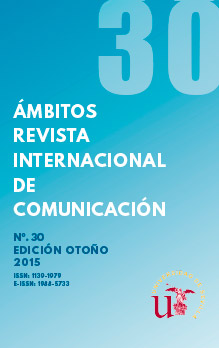 Descargas
Licencia
Ámbitos. Revista internacional de Comunicación es una publicación de acceso libre, ofrece su contenido bajo el principio de que hacer disponible gratuitamente la investigación al publico apoya a un mayor intercambio de conocimiento global.
Ámbitos. Revista internacional de Comunicación se adhiere a las diferentes iniciativas que promueven el acceso libre al conocimiento, por lo que todos los contenidos son de acceso libre y gratuito y se publican bajo licencia de Creative Commons Reconocimiento-NoComercial 4.0 Internacional.
En virtud de ello, los autores que publiquen en esta revista aceptan las siguientes condiciones:
Los autores conservan los derechos de autor y ceden a la revista el derecho de la primera publicación, con el trabajo registrado con la licencia de atribución de Creative Commons, que permite a terceros utilizar lo publicado siempre que mencionen la autoría del trabajo y a la primera publicación en esta revista.

Los autores pueden realizar otros acuerdos contractuales independientes y adicionales para la distribución no exclusiva de la versión del artículo publicado en esta revista (p. ej., incluirlo en un repositorio institucional o publicarlo en un libro) siempre que indiquen claramente que el trabajo se publicó por primera vez en esta revista.

Se permite y recomienda a los autores publicar su trabajo en Internet (por ejemplo en páginas institucionales o personales) ya que puede conducir a intercambios productivos y a una mayor y más rápida difusión del trabajo publicado (vea The Effect of Open Access).