Pitts, M.; Versluys, J. (eds.) (2015): Globalisation and the Roman World: world history, connectivity and material culture
Resumen
Pitts, M.; Versluys, J. (eds.) (2015): Globalisation and the Roman World: world history, connectivity and material culture. Cambridge, Cambrigde University Press, 296 pp. ISBN: 978-1-107-04374-9
Descargas
Los datos de descargas todavía no están disponibles.
Citas
Bancalari, A. (2007): Orbe romano e imperio global: la romanización desde Augusto a Caracalla. Santiago de Chile, Editorial Universitaria.
Hingley, R. (2005): Globalizing Roman culture: unity, diversity and empire. Londres-Nueva York, Routledge.
Hitchner, R. B. (2008): "Globalization Avant la Lettre: Globalization and the History of the Roman Empire. New Global Studies 2: 1-12.
Greene, K. (2008): "Learning to consume: consumption and consumerism in the Roman Empire". Journal of Roman Archaeology 21: 64-82.
Naerebout, F. G. (2006-2007): "Global Romans? Is Globalisation a concept that is going to help us understand the Roman Empire?". Talanta 38-39: 149-170.
Toner, J. (2002): Rethinking Roman History. Cambrigde, The Oleander Press.
Witcher, R. E. (2000): "Globalistation and Roman imperialism: perspectives on identities in Roman Italy", en E. Herring y K. Lomas (eds.), The emergence of state identitites in Italy in the first millennium BC: 213-225. Londres, Accordia Research Institute.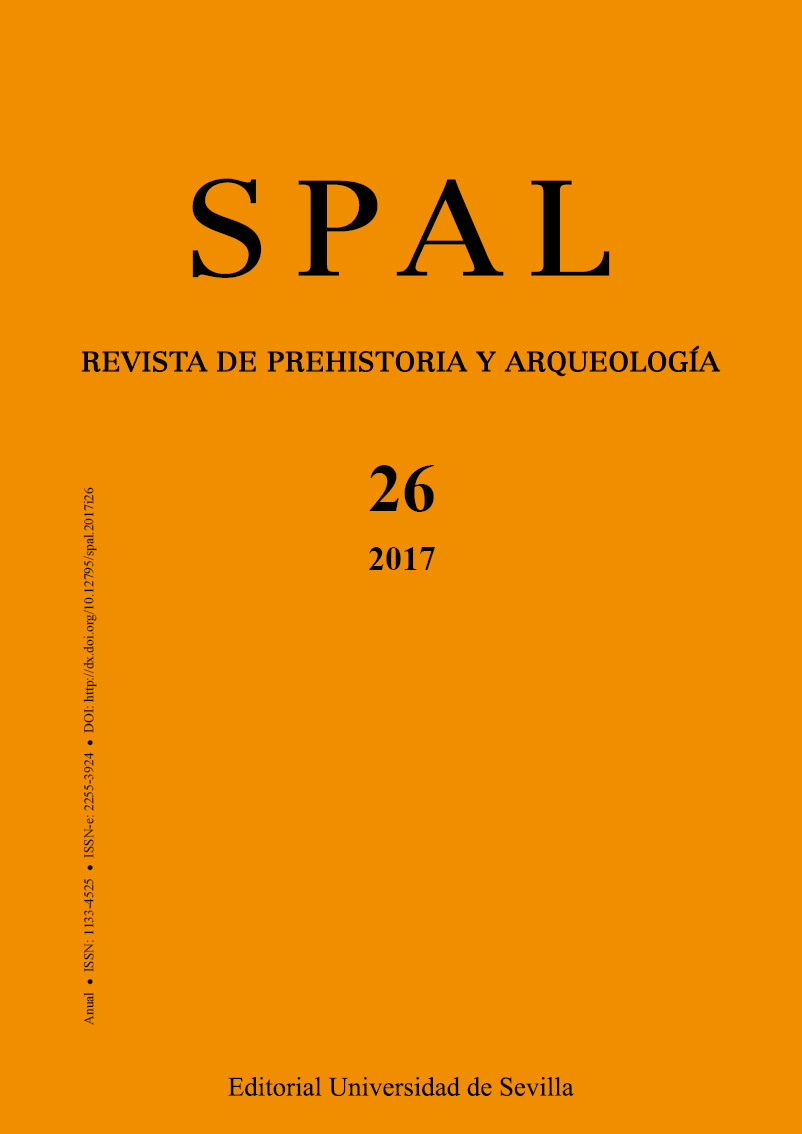 Descargas
Cómo citar
Machuca Prieto, F. (2017) «Pitts, M.; Versluys, J. (eds.) (2015): Globalisation and the Roman World: world history, connectivity and material culture», SPAL - Revista de Prehistoria y Arqueología, (26), pp. 364–366. doi: 10.12795/spal.2017i26.22.
Licencia
Las ediciones impresa y electrónica de esta Revista son editadas por la 
Editorial Universidad de Sevilla
, siendo necesario citar la procedencia en cualquier reproducción parcial o total.
Salvo indicación contraria, todos los contenidos de la edición electrónica se distribuyen bajo una licencia de uso y distribución "
Creative Commons Atribución-NoComercial-SinDerivar 4.0 Internacional
"
. Puede consultar desde aquí la
versión informativa
y el
texto legal
de la licencia. Esta circunstancia ha de hacerse constar expresamente de esta forma cuando sea necesario.