Tourist Ports and Yachting: The Case of Sardinia.
Palabras clave:
Nautical tourism, tourist ports, survey, data-analysis, Sardinia-Italy
Resumen
The aim of this work is to describe the situation of nautical tourism in one of the largest islands in the Mediterranean through the analysis of the marinas and the sailing habits of the boaters. After outlining the typology, characteristics and functions of the marinas in the introduction, we briefly present the quantitative-qualitative analysis methodology that was carried out through interviews to the stakeholders and subsequent processing of the original information obtained. The presentation of the results concerns the context of Italian ports and then focuses on Sardinia in terms of ports and berths. The discussion, on the other hand, is based on the original analysis of the use of Sardinian ports, the navigation mode of the boaters, including the characteristics of the boats used. In the conclusions, it is emphasized that Sardinia is at the centre of a boating area that extends to the Upper Tyrrhenian Sea, within which it represents a hub and the favourite area for the most important and rich segment of yachts. This, however, does not preclude existing structures from pursuing an improvement in the supply from the point of view of environmental compatibility, of the quality of the services offered and, above all, of a stronger connection to the tourist offer of the hinterlands.
A possible development of the present study may cover other similar cases in the Mediterranean, regarding in particular the specific aspect of the degree of openness towards the boaters coming from "continental" territories.
Descargas
Los datos de descargas todavía no están disponibles.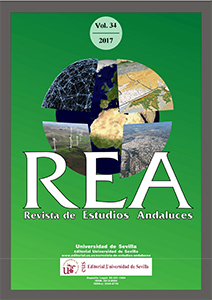 Descargas
Cómo citar
Ugolini, G. M., & Ivaldi, E. (2017). Tourist Ports and Yachting: The Case of Sardinia. Revista De Estudios Andaluces, (34), 58–65. Recuperado a partir de https://revistascientificas.us.es/index.php/REA/article/view/3591
Sección
Summary of the Articles
Licencia
La edición electrónica de la Revista de Estudios Andaluces se ofrece en acceso abierto desde el número 28 publicado en 2011 hasta la actualidad. Las ediciones impresa y electrónica de esta Revista son editadas por la Editorial de la Universidad de Sevilla, siendo necesario citar la procedencia en cualquier reproducción parcial o total.
La Revista de Estudios Andaluces no cobra tasas por el envío de trabajos, ni tampoco cuotas por la publicación de sus artículos. La Revista es gratuita desde el momento de la publicación de cada número y sus contenidos se distribuyen con la licencia "CreativeCommons Atribución-NoComercial-SinDerivar 4.0 Internacional" , que permite al usuario de la Revista de Estudios Andaluces criterios que cumplen con la definición de open access de la Declaración de Budapest en favor del acceso abierto. Puede consultar desde aquí la versión informativa y el texto legal de la licencia. Esta circunstancia ha de hacerse constar expresamente de esta forma cuando sea necesario.
Recibido 2017-07-12
Aceptado 2017-07-12
Publicado 2017-07-25