LA VICTIMIZACIÓN DE MADAME MERLE IN THE PORTRAIT OF A LADY Y LA SOCIEDAD EUROPEA COMO AGENTE OPRESOR
Palabras clave:
Madame Merle, victimización, sociedad, novela
Resumen
Este estudio se centra en uno de los personajes principales de la novela The Portrait of a Lady DE Henry James y el papel de la sociedad europea en el proceso de victimización femenina. Este análisis pretende ofrecer una nueva perspectiva de la novela y la representación del malvado personaje de Madame Merle. Su metodología consiste, por un lado, en un enfoque cronológico y por el otro, un enfoque sincrónico. La contradicción entre la información recogida tras los análisis nos ha permitido llegar a la conclusión de que el personaje de Madame Merle debe analizarse a la luz del concepto de victimización femenina.
Abstract
This study focuses on one of the main characters in the novel The Portrait of a Lady DE Henry James and the role of European society in the process of female victimization. This analysis is intended to offer a new perspective on the novel and the portrayal of the evil character of Madame Merle. His methodology consists, on the one hand, of a chronological approach and, on the other, a synchronic approach. The contradiction between the information collected after the analyzes has allowed us to conclude that the character of Madame Merle must be analyzed in the light of the concept of female victimization.
Descargas
Los datos de descargas todavía no están disponibles.
Citas
Armorial Gold Heraldry Services. Heraldryclipart.com. 6-10-04. http://www.heraldryclipart.com/ heraldry-symbolism.html
Beach, J. W., The Method of Henry James, New Haven: Yale U.P., 1918.
Collins, M., "The Narrator, the Satellites, and Isabel Archer: Point of View in The Portrait of a Lady" Studies in the Nove, l 8 (1976), pp. 142-57.
Foss, C., "Female Innocence as Other in The Portrait of a Lady and What Maisie Knew: Reassessing the Feminist Recuperation of Henry James", Essays in Literature, 22.2 (1995), pp. 253-68.
James, H., The Notebooks of Henry James, ed. F. O. Matthiessen, y K. B. Murdock, New York: Oxford U.P., 1947.
James, H., The Portrait of a Lady (1881), ed. Geoffrey Moore, London: Penguin, 1984.
Poole, A., "Dying before the End: The Reader in The Portrait of a Lady", Yearbook of English Studies, 26 (1996), pp. 143-53.
Sayres, W. G., "The Proud Penitent: Madame Merle's Quiet Triumph in Henry James's The Portrait of a Lady" Essays in Literature, 19.2 (1992), pp. 231-45.
Sharp, S. C., The Confidante in Henry James: Evolution and Moral Value of a Fictive Character, Notre Dame: University of Notre Dame Press, 1963.
Solomon, M., "The Female World of Exorcism and Displacement (or, Relations between Women in Henry James's Nineteenth- Century The Portrait of a Lady)", Studies in the Novel 28.3 (1996), pp. 395-413.
Stafford, W. T., "The Enigma of Serena Merle", The Henry James Review, 7.2-3 (1986), pp. 117-123.
White, C. H., "The House of Interest: A Keyword in The Portrait of a Lady", Modern Language Quarterly: A Journal of Literary History, 52.2 (1991), pp. 191-207.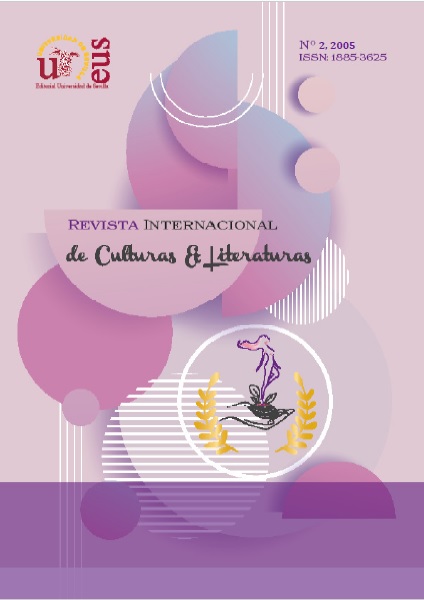 Descargas
Cómo citar
Filgueira Figueira, M. (2005). LA VICTIMIZACIÓN DE MADAME MERLE IN THE PORTRAIT OF A LADY Y LA SOCIEDAD EUROPEA COMO AGENTE OPRESOR. Revista Internacional De Culturas Y Literaturas (ISSN: 1885-3625), (2), 28–45. https://doi.org/10.12795/RICL.2005.i02.03
Sección
Artículos español
Recibido 2019-02-04
Aceptado 2019-02-04
Publicado 2005-05-09