LA ESCLAVA NEGRA AMERICANA DEL SIGLO XIX, LA GRAN MARGINADA
Palabras clave:
esclava, Estados Unidos, afroamericana, esclavitud
Resumen
El objetivo de este trabajo es describir de manera clara y precisa la realidad en la que vivían las mujeres esclavas de raza negra en Estados Unidos en el siglo XIX. Para entender el contexto histórico y sociocultural, nos centraremos en hechos que marcaron la vida de estas mujeres.
Abstract
The objective of this work is to clearly and precisely describe the reality in which black slave women lived in the United States in the 19th century. To understand the historical and sociocultural context, we will focus on events that marked the lives of these women.

Descargas
Los datos de descargas todavía no están disponibles.
Citas
Bibb, H., Narrative of the life and Adventures of Henry Bibb, An American Slave, Nueva York, Henry Bibb, 1850.
Bradford, S. H., The Scenes in the life of Harriet Tubman, Auburn (W), J. Moses Printer, 1869.
Brown, W., Narrative of William W. Brown, a Fugitive Slave, Boston, The Anti-slavery office, 1847.
Campbell, S. W., Enforcement of the Fugitive Slave Law, 1850-1660, N. C., Chapel Hill, 1968.
Chestnut, M. B., A Diary from Dixie (B. A. Williams, ed.), Boston, Houghton Mifflin Co., 1949.
Farrel, J., The History of the Negro Community in Chatham, Ontario, 1787-1865, tesis doctoral, Otawa University, 1955.
Lunardine, C. A, Women´s rights, Phonexy, Oryx Press, 1996.
Mullane, D., Words to Make My Dream Children "Live". A Book of African American Quotations, Nueva York, Doubleday, 1995.
Murray, A. L., "The Provincial Freeman: A new Source for the History of the Negro in Canada and the United States", Journal of Negro History, vol. 44, nº2, Abril de 1959, pp.123-135.
Rhodes, J., Mary Ann Shadd Cary: The Black Press and Protest in the Nineteenth Century, Bloomington, Indiana University Press, 1998.
Toasijé, A., "Mujer africano norteamericana decimonónica: imagen, discurso y actitudes liberadoras", en Espéculo, Revista de Estudios Literarios, Madrid, Universidad Complutense de Madrid, 10-10-07.
Welter, B., Dimity Convictions: The American Woman in the Nineteenth Century, Athens (Ohio), Ohio University Press, 1976.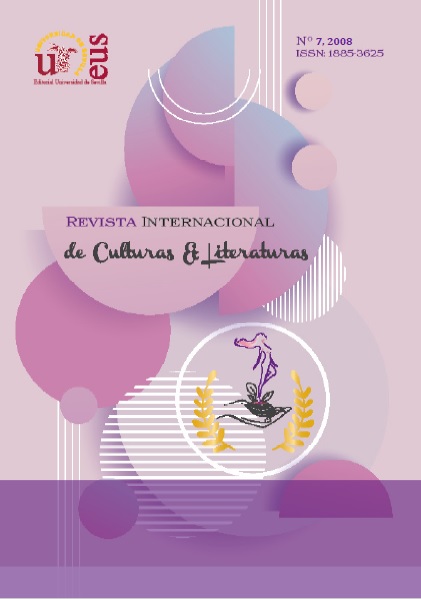 Descargas
Cómo citar
Piqueras Fraile, R. (2008). LA ESCLAVA NEGRA AMERICANA DEL SIGLO XIX, LA GRAN MARGINADA. Revista Internacional De Culturas Y Literaturas (ISSN: 1885-3625), (7), 35–46. https://doi.org/10.12795/RICL.2008.i07.05
Sección
Artículos español
Recibido 2019-01-11
Aceptado 2019-01-11
Publicado 2008-04-09