CUENTOS CRÍTICOS: DOMESTICITY AND VIOLENCE IN THE SHORT STORIES OF CARE SANTOS
Palabras clave:
femicide, domestic violence, short stories, Care Santos
Resumen
Este artículo evalúa la representación del feminicidio y la violencia de género en una serie de historias breves de Care Santos teniendo en cuenta el cambiante clima político y social de España durante la década de los noventa. Este análisis revela que las relaciones domésticas violentas en España son un sitio importante para el examen de los efectos del poder, tanto social como artísticamente, ya que se destacan las contradicciones internas de las operaciones normativas del poder y los mecanismos que los sustentan.
Abstract
This article assesses the representation of femicide and gender violence in a series of short stories by Care Santos taking into consideration the changing political and social climate of Spain during the 1990s. This analysis reveals that violent domestic relationships in Spain are an important site for the examination of power effects, both socially and artistically, as they highlight the internal contradictions of normative operations of power and the mechanisms that sustain them.
Descargas
Los datos de descargas todavía no están disponibles.
Citas
Almany Rojo, A., "Spain's Domestic Violence Fatalities Rising", October 31, 2003. Internet.
http://www.feminist.com/news/vaw7.html
Comas d'Argemir Cendra, M., "La ley integral contra la violencia de género: una ley necesaria", Revista jurídica de Castilla y León, 4 (2004), pp. 43-78.
El Khattat, M., "Un hombre mata a su ex mujer prendiéndole fuego tras atarla", El Mundo, 18
de Noviembre, 1997. Internet.
http://www.elmundo.es/elmundo/1997/diciembre/18/nacional/malostratos.html
Foucault, M., Discipline and Punish. The Birth of the Prison, Trans. Alan Sheridan, New York, Random House, 1995.
Hearn, J., The Violences of Men. How Men Talk About and How Agencies Respond to Men's Violence to Women, London, Sage, 1998.
MagallónPortoles, C., "Sostener la vida, producir la muerte: Estereotipos de género y violencia." En El sexo de la violencia: Género y cultura de la violencia. Ed. Vicenç Fisas, Barcelona, Icaria, 1998, pp. 93-116.
Medina-Ariza, J. and Rosemary B., "Intimate Partner Violence in Spain", Violence Against Women, 9.3 (2003), pp. 302-22.
Rahola, P., Mujer liberada, hombre cabreado, Barcelona, Planeta, 2000.
Santos, C., Cuentos cítricos, Madrid, Libertarias, 1995.
Zecchi Monleón, B., "Domesticidad, feminismo doméstico y ¿posibles alternativas?" En Autoras y protagonistas. Eds. Pérez Cantó, Pilar and Elena Postigo Castellanos, Madrid, Instituto Universitario de Estudios de la Mujer, 2000, pp. 440-61.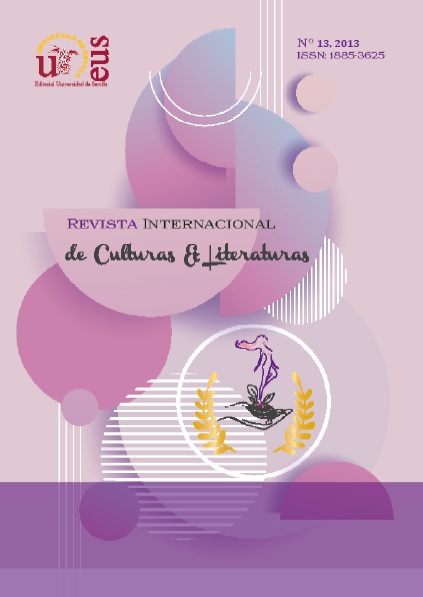 Descargas
Cómo citar
Tradissi, P. (2013). CUENTOS CRÍTICOS: DOMESTICITY AND VIOLENCE IN THE SHORT STORIES OF CARE SANTOS. Revista Internacional De Culturas Y Literaturas (ISSN: 1885-3625), (13), 162–175. Recuperado a partir de https://revistascientificas.us.es/index.php/CulturasyLiteraturas/article/view/17556