PLATONE E LA FEMME FATALE: IL PERSONAGGIO DI ANTINEA NE L'ATLANTIDE DI PIERRE BENOÎT
Palabras clave:
femme fatal, Antinea, Atlantide
Resumen
Si analizza nell'articolo l'enigmatica figuradi Antinea, chiaro esempio di femme fatal. Nell'Atlantide, opera di Pierre Benoît, si riscontrano anche elementi típicamente orientali. Il romanzo è caratterizzato da una struttura circolare e narra di un viaggio iniziatico carico di simboli. La protagonista Antinea presenta numerose affinità con le protagoniste di altri romanzi di inizio '900 con cui condivide mistero e eccessi.
Abstract
In the article the enigmatic character of Antinea is analyzed: it is a clear example of femme fatal. In Atlantida by Pierre Benoît, some typically Eastern elements can be found. The novel is characterized by a circular structure and it tells about a journey of initiation full of symbols. Antinea, the main character, shares many features with the main characters of other novels of the beginning of the 20th century, with whom she shares mystery and excesses.
Descargas
Los datos de descargas todavía no están disponibles.
Citas
Abłamowicz, A. (1994). Voyage-évasion ou mythe. L'Atlantide de Pierre Benoît. Acta Universitatis Lodziensis. Folia Litteraria, 35.
Benoit, P., & Benoît, P. (1920). L'Atlantide: roman (Vol. 7). a. Michel: Pàris.
Djebbar, I. (2018). Complexité énonciative et structurelle dans les romans de la première moitié du XXe siècle. L'Immoraliste d'André Gide, L'Atlantide de Pierre Benoit. Essais. Revue interdisciplinaire d'Humanités, (14), 181-196.
Hamdi, M. (2010). Figuration du désert et stéréotypie figurative dans l'Atlantide de Pierre Benoit (Doctoral dissertation, Université de Tizi Ouzou-Mouloud Mammeri).
Le Roy, E. (2004). l'Atlantide. Journal of Film Preservation, (68), 80.
Le Roy, E. (2004). l'Atlantide. Journal of Film Preservation, (68), 80.
Magnani, JGC (1999). Mystica urbe: uno studio antropologico sul circuito neoesoterico nella metropoli . Studio Nobel.
Marchand, F. (1997). L'Atlantide: itinéraire d'un mythe dans la production audiovisuelle (Doctoral dissertation, Toulouse 2).
Sadiaa, E. (2009). Tesis doctoral. Etude plurielle du personnage Antinéa et sa réincarnation mythique dans L'Atlantide de Pierre Benoit . Universidad La Sorbonne: París.
Vidal-Naquet, P. (2006). Il cacciatore nero. Forme di pensiero e forme di articolazione sociale nel mondo greco antico. Feltrinelli Editore: Milano.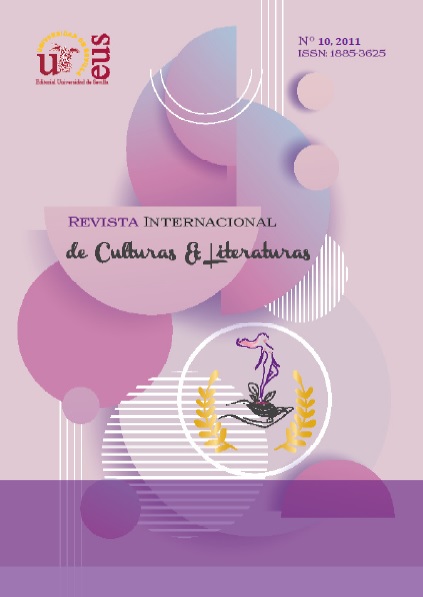 Descargas
Cómo citar
Bigalli, D. . (2011). PLATONE E LA FEMME FATALE: IL PERSONAGGIO DI ANTINEA NE L'ATLANTIDE DI PIERRE BENOÎT. Revista Internacional De Culturas Y Literaturas, (10), 197–208. Recuperado a partir de https://revistascientificas.us.es/index.php/CulturasyLiteraturas/article/view/17924
Sección
Artículos italiano