Lord Acton, el victoriano confederado: en defensa de la primitiva Unión y los derechos de los estados
Lord Acton, the Victorian Confederate: In Defense of the Primitive Union and Rights of States
Palabras clave:
Estados Unidos, Guerra Civil, Confederación, Revolución norteamericana, derechos de los estados, Lord Acton, esclavitud
Resumen
Lord Acton se mostró partidario de la causa Confederada. Lo hizo guiado por su sentido de la Historia y del poder: los ideales tienen una potencia transformadora y los estados del Sur proclamaron la secesión movidos por la reivindicación de los principios originales de la Revolución norteamericana frente a la tiranía de la mayoría. Acton no entra en interpretaciones jurídicas acerca de la materialización del derecho de secesión, pero explica el significado efectivo de la noción de soberanía y la incluye entre los inalienables derechos de los estados. Acton, celoso de preservar los contrapesos que neutralicen o limiten la tendencia hacia el despotismo de la mayoría y del "Gobierno General", considera que los estados del Sur lucharon por un ideal: proteger sus derechos sobre la base de la vieja Constitución y por una nueva Unión.  
Descargas
Los datos de descargas todavía no están disponibles.
Citas
Correspondencia y fuentes directas de Acton:
P. De la Nuez (ed.), Lord Acton. Ensayos sobre la libertad y el poder (Madrid, 1998).
John Acton, The Civil War in America (Las Vegas, 2018) [conferencia dictada para la Literary and Scientific Insitution, Bridgnorth, 18 de enero de 1866].
Lee Family Digital Archive: https://leefamilyarchive.org/papers/letters/transcripts-unknown%20sources/u020.html
Bibliografía citada:
E. D. Adams, Great Britain and the American Civil War (Nueva York, 1925).
B. Bailyn, Los orígenes ideológicos de la Revolución norteamericana (Madrid, 2012).
S. Beckert, El imperio del algodón: Una historia global (Barcelona, 2016).
R. B. Bernstein, The Founding Fathers Reconsidered (Oxford, 2009).
H. Borgan, "America and Walter Bagehot", en Journal of American Studies, 3 (1977), pp. 335-356.
J. Bryce, La república norteamericana (Madrid, 2017).
A. Buchanan, Secesión. Causas y consecuencias del divorcio político (Barcelona, 2013).
J. C. Calhoun, Disquisición sobre el Gobierno (Madrid, 1996).
G. Carey (comp.), The Political Writings of John Adams (Washington, 2000).
R. Chernow, Alexander Hamilton (Londres, 2004).
Ch. Clausen, "America's Changeable Civil War", en Wilson Quarterly, 2 (2010), pp. 30-35.
Ch. Clausen, "Lord Acton and the Lost Cause", en The American Scholar, 1 (2000), pp. 49-58.
S. F. Dean, "Lord Acton and Edmund Burke", en Journal of the History of Ideas, 2 (1972), pp. 325-335.
W. A. DeGregorio, The Complete Book of U.S. Presidents (New Jersey, 2013).
J. Dewey, Jefferson, con la mayor felicidad (Buenos Aires, 2006).
A. Hamilton, J. Madison y J. Jay, El Federalista (México, 2012).
G. Himmelfarb, Lord Acton: A Study in Conscience and Politics (San Francisco, 1993).
G. Himmelfarb, "The American Revolution in the Political Theory of Lord Acton", en The Journal of Modern History, 4 (1949), pp. 293-312.
J. Keegan, Secesión. La guerra civil americana (Madrid, 2011).
J. Madison, República y libertad (Madrid, 2005).
J. M. Mc Pherson, Battle Cry Of Freedom: The Civil War Era (Londres, 2006).
J. M. Mc Pherson, La batalla de Antietam, 1862 (Barcelona, 2004).
B. Moore, Los orígenes sociales de la dictadura y de la democracia (Barcelona, 2002).
T. Paine, Sentido común y ocho cartas a los ciudadanos de los Estados Unidos (Madrid, 2020).
F. Prochaska, Eminent Victorians on American Democracy. The view form Albion (Oxford, 2013).
J. Rakove, Revolutionaries. A New History of the Invention of America (Nueva York, 2011).
J. N. Rakove, Original Meanings. Politics and ideas in the Making of the Constitution (Nueva York, 1997).
J. N. Rakove, The Beginnings of National Politics. An Interpretative History of the Continental Congress (Nueva York, 1979).
J. Redondo, "Orígenes y justificación del presidencialismo americano" en Cuadernos de Pensamiento Político, 47, (2015), pp. 53-68.
J. Redondo, Presidentes de Estados Unidos. De Washington a Obama, la historia norteamericana a través de los 43 inquilinos de la Casa Blanca (Madrid, 2015).
R. V. Remini, A Short History of the United States (Nueva York, 2008).
R. V. Remini, Daniel Webster: The Man and His Time (Nueva York, 1978).
J. Salyer, "Lord Acton and the American Civil War", en The Imaginative Conservative, 7 de febrero de 2019: https://theimaginativeconservative.org/2019/02/lord-acton-american-civil-war-jerry-salyer.html
A. de Tocqueville, La democracia en América (Madrid, 2010).
G. S. Wood, Empire of Liberty. A History of the Early Republic, 1789-1815 (Oxford, 2009).
G. S. Wood, The Creation of the American Republic, 1776-1787 (Chapell Hill, 1998).
G. S. Wood, The Radicalism of the American Revolution (Nueva York, 1993).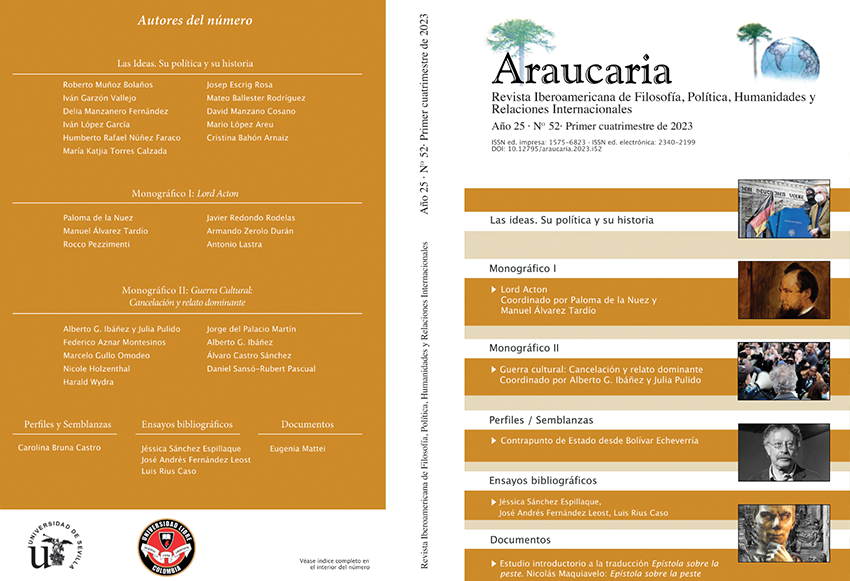 Descargas
Cómo citar
Redondo Rodelas, J. (2023). Lord Acton, el victoriano confederado: en defensa de la primitiva Unión y los derechos de los estados: Lord Acton, the Victorian Confederate: In Defense of the Primitive Union and Rights of States. Araucaria, 25(52). https://doi.org/10.12795/araucaria.2023.i52.15
Licencia
Las ediciones impresa y electrónica de esta Revista son editadas por el
Secretariado de Publicaciones de la Universidad de Sevilla
, siendo necesario citar la procedencia en cualquier reproducción parcial o total.
Salvo indicación contraria, todos los contenidos de la edición electrónica se distribuyen bajo una licencia de uso y distribución "
Creative Commons Atribución-NoComercial-SinDerivar 4.0 Internacional
"
. Puede consultar desde aquí la
versión informativa
y el
texto legal
de la licencia. Esta circunstancia ha de hacerse constar expresamente de esta forma cuando sea necesario.