Estructura factorial exploratoria de fiabilidad internauta en vísperas de las elecciones federales
Abstract
La fiabilidad emerge luego de que se establece una agenda con temas centrados en la corrupción política que, lejos de orientar un debate y consenso público, generan emociones negativas que redundan en la desesperanza social, escenario idóneo para la propaganda de la rectoría el Estado autoritario. El objetivo del presente trabajo es establecer un modelo para el estudio del fenómeno en comento. Se llevó a cabo un estudio no experimental, transversal, exploratorio con una selección no probabilística de 400 internautas millenials. Se advierten líneas de investigación relativas a la extensión del modelo y su contrastación en procesos electorales.
Downloads
Download data is not yet available.
References
Carreón, J. y García, C. (2013). Teoría de la seguridad pública y percepción del delito. Margen, 71, 1-16
Carreón, J., De la Cruz, P. y Maganda, M. (2015). La administración de temores sociales. Contraste en un modelo de percepción de la seguridad en México. Ehquidad, 4, 31-60
Carreón, J., García, C. y Hernández, J. (2014). Emociones y desconfianza hacia las autoridades. Virajes, 16 (1), 163-184
Carreón, J., Hernández, J., Bustos, J. M. y García, C. (2017). Políticas de fomento empresarial y sus efectos sobre la percepción de riesgos en caficultores de Xilitla, San Luis Potosí, centro de México. Poiesis, 32, 33-54
Francescutti, P. (2015). Citizenforu. Papeles Ceic, 2, 1-9
García, C. (2014). Especificación de un modelo de emprendedurismo social. Razón & Palabra, 18 (88), 1-41
García, C. (2015). La legitimidad sociopolítica de la administración de seguridad pública en Xilitla, San Luis Potosí, México. Investigación Administrativa, 115 (44), 24-40
García, C., Carreón, J., Hernández, J., Aguilar, J. A. y Rosas, F. J. (2016). Contraste de un modelo de calidad de vida en estudiantes de la Universidad Autónoma del Estado de México. Visión Gerencial, 15 (1), 8-43
García, C., Carreón, J., Hernández, J., Aguilar, J. A., Rosas, F. J., y Bustos, J. M. (2015). Diferencias de fiabilidad ante riesgo, incertidumbre y conflicto entre caficultores en Xilitla, México. Eureka, 12 (1), 73-93
García, C., Carreón, J., Hernández, J., Rivera, B. L. (2015). Confiabilidad y validez de un instrumento que mide la dimensión sociopolítica de la calidad de vida. Pisucime, 5 (2), 79-92
García, C., Carreón, J., Mendoza, D., Aguilar, J. A. y Hernández, J. (2015). Contraste de un modelo de legitimidad sociopolítica. Tendencia & Retos, 20 (2), 121-133
Hernández, D., Ramírez, A. y Casanny, D. (2014). Categorizando a os usuarios de sistemas digitales. Medios y Educación, 44, 113-126
Manzano, B. (2016). Cibercultura TIC y redes sociales: Nuevas formas de comunicación para las familias. Medios y Educación, 49, 195-206
Núñez, P., García, M. L. y Hormida, L. (2012). Tendencias de las relaciones sociales e interpersonales de los nativos digitales. Comunicación Social, 67, 179-206
Pérez, M. I., Aguilar, J. A., Morales, M. L., Pérez, G. y García, C. (2017). Gobernanza de las preferencias electorales: Contrastación de un modelo de expectativas consensuales e intención de voto en estudiantes de una universidad pública. Revista Internacional de Investigación en Ciencias Sociales, 13 (1),49-59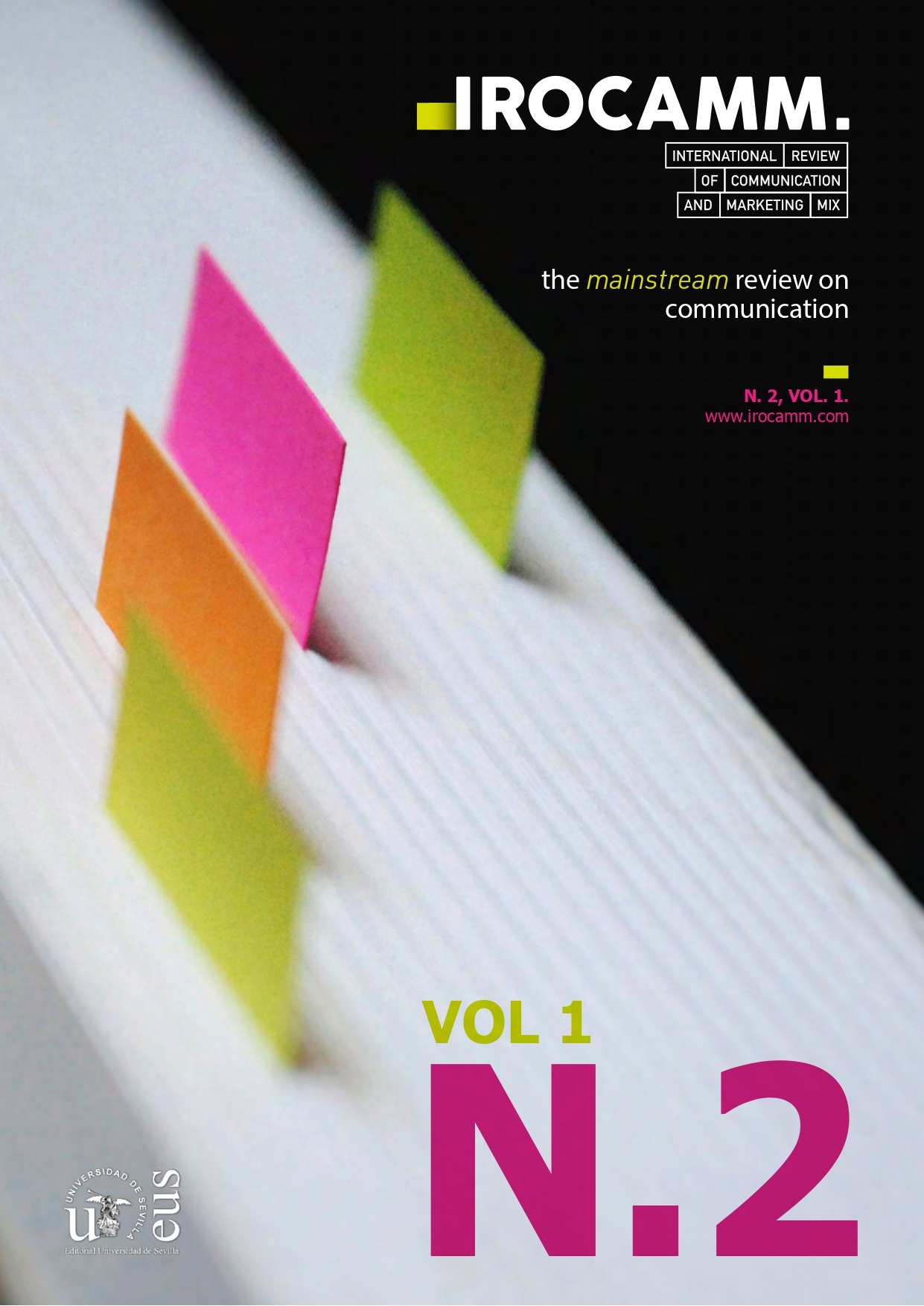 Downloads
License
International Review Of Communication And Marketing Mix provides unrestricted access to its contents from the moment of publication in this electronic edition, and is therefore an open-access magazine. The originals published in this magazine are the property of the University of Seville and it is obligatory to cite their origin in any total or partial reproduction.' All content is distributed under a Creative Commons Attribution 4.0 (CC BY-NC-ND 4.0) license. This should be expressly stated in this way where necessary. You can consult the informative version and the legal text of the license.
The authors who publish in this journal agree to the following terms:
The assignment of rights is made under the Creative Commons license.
Authors may separately make additional arrangements for the non-exclusive distribution of the version of the work published in the journal (for example, placing it in an institutional repository or publishing it in a book), with an acknowledgement of its initial publication in this journal.
Authors are allowed and encouraged to disseminate their work electronically (e.g. in institutional repositories or on their own website) before and during the submission process, as this can lead to productive exchanges, as well as earlier and more extensive citation of published work.
The dissemination of the articles will be carried out on general social networks, ResearchGate, Mendeley, Academia.edu, Cosis, e-lis and other databases or full text repositories on the Internet with whom the journal establishes an agreement for their dissemination and visibility.
Copyright is of two kinds: moral rights and economic rights. Moral rights are perpetual prerogatives, unrenounceable, untransferable, inalienable, unattachable and imprescriptible. Economic rights refer to the benefits obtained by the use or disclosure of the works. IROCAMM - International Review of Communication And Marketing Mix is exclusively authorized to make or authorize by any means the use, distribution, dissemination, reproduction, adaptation, translation or transformation of the work.
International Review Of Communication And Marketing Mix does not charge fees for submission of papers, nor does it charge fees for publication of its articles.