Gestión de marca turística online a nivel municipal en la Comunidad Valenciana.
Abstract
El sector turístico es clave en la economía española actual. La competencia entre la variedad de destinos turísticos hace que estos deban diferenciarse, crear una imagen de marca territorio potente y comunicarlo a sus stakeholders. El objetivo del presente artículo es analizar cómo realizan la gestión de la marca turística en el mundo online los municipios de la Comunidad Valenciana en los que se observa un carácter reconocidamente turístico. Para ello, se tomará como muestra los cuatro municipios de la Comunidad Valenciana pertenecientes a la red de "Los Pueblos Más Bonitos de España" en 2018, que son: Peñíscola, Morella, Vilafamés y El Castell de Guadalest. Como metodología, se analiza cómo es la presencia online de las marcas turísticas de dichos municipios (examinando su web corporativa, redes sociales, redes turísticas en las que están inmersos, etc. ) y se realiza una entrevista a los responsables de comunicación de estos municipios. Con todo ello, se obtiene una visión de cómo algunos de los pueblos de la Comunidad Valenciana considerados como turísticos gestionan su marca turística en el mundo online, a la vez que se analizan qué prácticas en la gestión online pueden aportar más beneficios a la marca turística a nivel municipal.
Downloads
Download data is not yet available.
References
Almeida García, Fernando (2007). Análisis de la estructura turística de las ciudades Patrimonio de la Humanidad de España. En: Baética, nº 29. Málaga: Universidad de Málaga, 57-72.
Costa, Carlos (2015). Comunicación de crisis, redes sociales y reputación corporativa. Madrid: Universidad Complutense de Madrid.
De los Reyes Cruz Ruiz, Elena; Ruiz Romero de la Cruz, Elena y Zamarreño Aramendia, Gorka (2017). Marca territorio y marca ciudad, utilidad en el ámbito del turismo. El caso de Málaga. En: International Journal of Scientific Management and Tourism, vol 3, nº2. Córdoba: 155-174.
Exceltur (2018). Estudio sobre el empleo en el sector turístico. Madrid. Consultado el 15/06/2018 en: http://www.exceltur.org/wp-content/uploads/2018/04/ESTUDIO-EMPLEO-SECTOR-TURISTICO-EXCELTUR.pdf
Folgado, José; Oliveira Duarte, Paulo y Hernández, Jose (2011). Imagen del destino y mercado turístico: sinergias e implicaciones. En: Book of proceedings - International Conference on tourism & management studies, Vol. 1. Portugal: Algarve, 904-914.
Gil Soldevilla, Samuel y Miquel Segarra, Susana (2017). Transmedia y comunicación publicitaria: retos, narrativas y emociones. En: adComunica. RevistaCientífica de Estrategias, Tendencias e Innovación en Comunicación, nº14. Castellón: Asociación para el Desarrollo de la Comunicación adComunica y Universitat Jaume I, 23-26. DOI: http://dx.doi.org/10.6035/2174-0992.2017.14.2
Gonzalez Oñate, Cristina y Martínez Bueno, Sonia (2013). La marca territorio como elementos de la comunicación: Factor estratégico del desarrollo turístico en Cuenca. En: Pensar la Publicidad. Revista Internacional de Investigaciones Publicitarias, Vol. 7, nº 1. Madrid: Universidad Complutense de Madrid, 113-134. DOI: http://dx.doi.org/10.5209/rev_PEPU.2013.v7.n1.42439
Hernández Sampieri, Roberto; Fernández-Collado, Carlos y Baptista Lucio, Pilar (2006). Metodología de la investigación. En: Hernández Sampieri, Roberto; Fernández-Collado, Carlos y Baptista Lucio, Pilar (2006). Definiciones de los enfoques cuantitativo y cualitativo, sus similitudes y diferencias. Madrid: Mc Graw Hill, 1-23.
Huertas Roig, Assumpció. (2014): La comunicación de los territorios, los destinos y sus marcas. Guía práctica de aplicación desde las relaciones públicas. Barcelona: UOC ediciones.
IAB Spain. (2009). Libro Blanco de IAB. La comunicación en medios sociales. (en línea). Madrid: Edipo S. A. Consultado el 30/06/2018 en: http://iabspain.es/wp-content/uploads/8_LB_Comunicacion_Medios_Sociales-1.pdf
IAB (2017). Estudio anual eCommerce 2017. (en línea). Consultado el 17/06/2018 en: https://iabspain.es/wp-content/uploads/estudio-ecommerce-iab-2017_vpublica.pdf
Intef (2013). Multimedia y web 2.0: Módulo 1. Iniciación a los blogs (en línea). Ministerio de educación, cultura y deporte. Consultado el 30/06/2018 en: http://www.ite.educacion.es/formacion/materiales/155/cd/modulo_1_Iniciacionblog/concepto_de_web_20.html
Küster, Inés y Hernández, Asunción (2013). De la Web 2.0 a la Web 3.0: antecedentes y consecuencias de la actitud e intención de uso de las redes sociales en la web semántica. En: Universia Business Review, nº37. Madrid: Portal Universia S.A, 104-119.
Paniagua, Francisco Javier y Huertas, Assumpció (2018). El contenido de los medios sociales de los destinos turísticos y la búsqueda de información de los usuarios. En: Cuadernos de turismo, nº 41. Murcia: Universidad de Murcia, 513-534. DOI: http://dx.doi.org/10.6018/turismo.41.327131
Sixto, Jose (2015). Desarrollo de las redes sociales como herramienta de marketing (en línea). En: Anagramas Rumbos y Sentidos de la Comunicación, Vol.13, nº 26. Medellín: Universidad de Medellín, 179-196.
Xiang, Zheng y Gretzel, Ulrike. (2010). Role of social media in online travel information search. En: Tourism Management, vol. 31, nº2. Reino Unido: Elsevier Limited, 179-188. DOI: http://dx.doi.org/10.1016/j.tourman.2009.02.016.
Yejas, Andrade y Albeiro, David (2016). Estrategias de marketing digital en la promoción de Marca Ciudad. En: Revista Escuela de Administración de Negocios, nº80. Bogota: Universidad EAN, 59-72.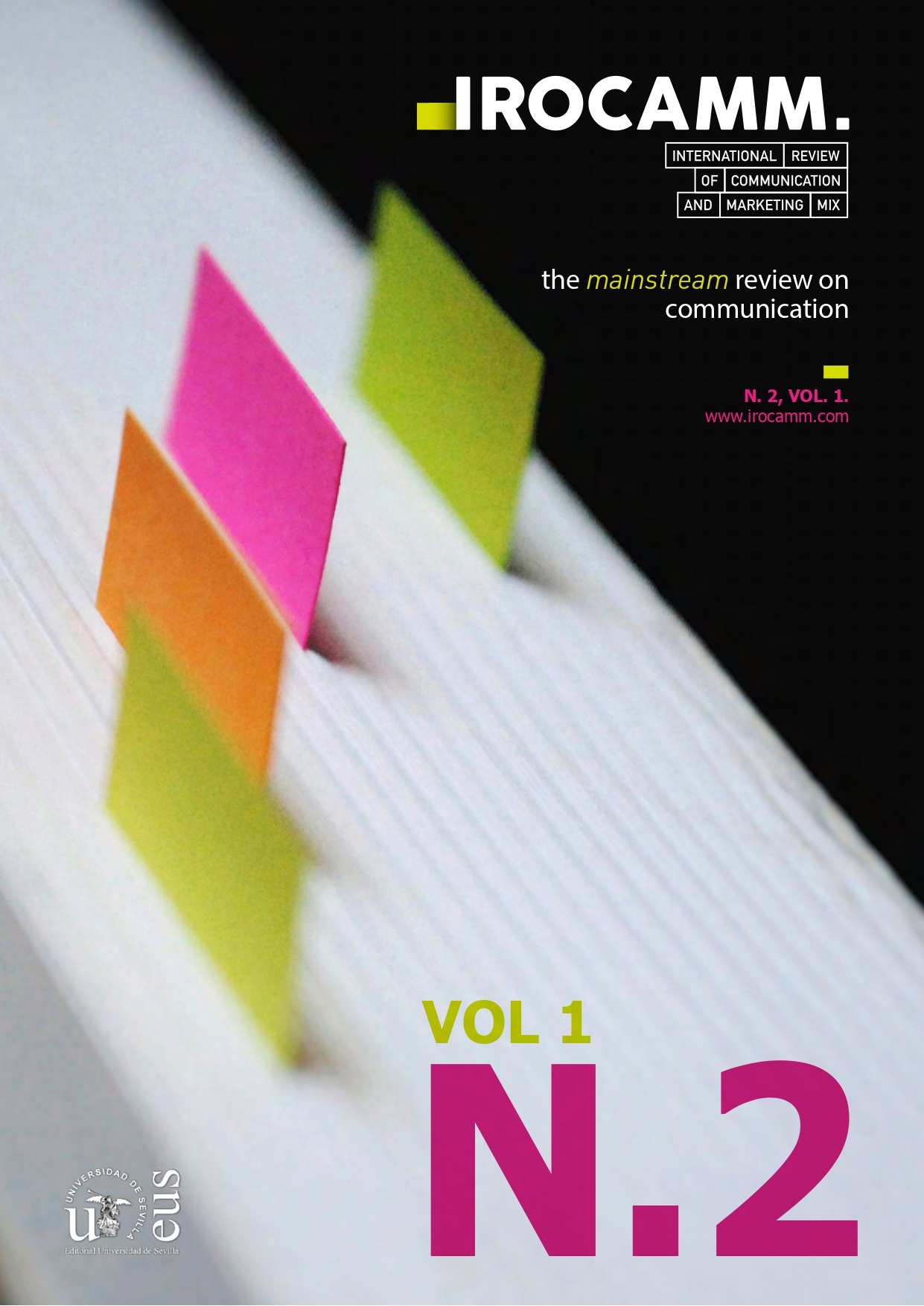 Downloads
License
International Review Of Communication And Marketing Mix provides unrestricted access to its contents from the moment of publication in this electronic edition, and is therefore an open-access magazine. The originals published in this magazine are the property of the University of Seville and it is obligatory to cite their origin in any total or partial reproduction.' All content is distributed under a Creative Commons Attribution 4.0 (CC BY-NC-ND 4.0) license. This should be expressly stated in this way where necessary. You can consult the informative version and the legal text of the license.
The authors who publish in this journal agree to the following terms:
The assignment of rights is made under the Creative Commons license.
Authors may separately make additional arrangements for the non-exclusive distribution of the version of the work published in the journal (for example, placing it in an institutional repository or publishing it in a book), with an acknowledgement of its initial publication in this journal.
Authors are allowed and encouraged to disseminate their work electronically (e.g. in institutional repositories or on their own website) before and during the submission process, as this can lead to productive exchanges, as well as earlier and more extensive citation of published work.
The dissemination of the articles will be carried out on general social networks, ResearchGate, Mendeley, Academia.edu, Cosis, e-lis and other databases or full text repositories on the Internet with whom the journal establishes an agreement for their dissemination and visibility.
Copyright is of two kinds: moral rights and economic rights. Moral rights are perpetual prerogatives, unrenounceable, untransferable, inalienable, unattachable and imprescriptible. Economic rights refer to the benefits obtained by the use or disclosure of the works. IROCAMM - International Review of Communication And Marketing Mix is exclusively authorized to make or authorize by any means the use, distribution, dissemination, reproduction, adaptation, translation or transformation of the work.
International Review Of Communication And Marketing Mix does not charge fees for submission of papers, nor does it charge fees for publication of its articles.